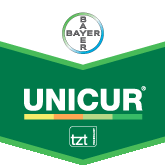 The Allium and Brassica Centre's Andy Richardson says this approval will simplify spraying for growers and improve disease control. "Due to their much greater planting density than onions, shallots tend to face greater disease risk, particularly from downy mildew, so availability of Unicur has been eagerly awaited.
"It is one of the few fungicides that controls all of the three main diseases of shallots – downy mildew, leaf spot and leaf blotch – and is the most active against the key disease downy mildew."
Andy says last year was horrendous for downy mildew and shallot growers really struggled without Unicur. There was also more leaf blotch than had been seen for some time. As a result growers typically had to apply nine to ten fungicide sprays compared with the average of seven.
Looking forward to disease control planning for this season Andy observes that shallots are generally two to three weeks behind and stresses the importance of commencing programmes according to crop growth stage – four to five true leaves – rather than setting a calendar date, which could mean starting too early.
He advises mixing Unicur with Dithane (mancozeb) and alternating this mix with mancozeb containing co-formulations; Fubol Gold (mancozeb + metalaxyl), Invader (dimethomorph + mancozeb) or Valbon (benthiavalicarb-isopropyl + mancozeb).
"Introducing Unicur at the second spray in programmes and using it every second spray thereafter will ensure use does not exceed QoI resistance management guidelines and build in good protection against diseases from the start."
As for onions maximum individual dose is 1.25 L/ha, maximum total dose is 5 L/ha and latest time of application is when 10% of leaves are bent over. Find the 2013 user guide for Unicur can be downloaded here.