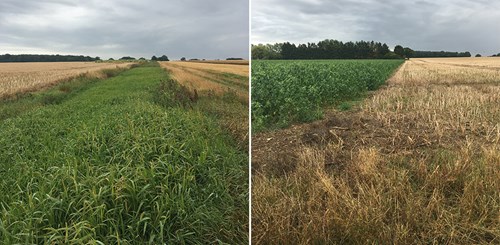 Looking at John's cropping lists, I am immediately drawn to two things:
Large size of the fields (One being over 100 acres!)
Large environmental scheme blocks within the field
John explains that in some cases, they have gone for the traditional approach of wide margins sown with either two year bird seed mix or with a combined bird seed and pollinator mix, but increasingly have put whole blocks within individual fields under stewardship schemes. They felt that this was easier to manage and that there seemed to be more wildlife associated with bigger blocks.  
I ask him about the size of the fields
John explains that in the early 1970's, the previous farmers responded to the clear policy directions and associated support payments to take out trees and hedges in an attempt to upscale productivity; indeed he points out several fields which were composites of a number smaller fields on the old maps of the area.
"Did it help?" I ask him. The response was more equivocal than I expected.
Yes, of course it helped in many of the cases where fields were too small and very unwieldy to prepare, sow, manage and harvest. In other cases, this process had been too extreme to the point they have introduced new areas of trees, and took the decision to re-split a 140 acre field. They then put 10% of both resultant fields into stewardship, leaving what looked suspiciously like a wide but shallow beetle bank between the two.
John shied away from my description of the latter but nevertheless, it is an excellent example of a natural routeway providing cover for both beneficial insects and small mammals, and a pollen and nectar source for pollinators.
What does farming for the environment look like?
As we watch three buzzards disturbed by the approach of the vehicle, I asked John why he put aside 10% of the farm into environment schemes. The answer was threefold;
"Farming for the environment is part and parcel of what we do"

Cover strips for game birds helps bird life more generally.

Post-Brexit agricultural policy will involve less traditional support payments, and a lot more public-payments-for-public-goods. In this situation, it is better to be ahead of the game, preparing actively for future policy decisions.
Back at the farmhouse, I am reminded that there is an increasing evidence that a post-Brexit is going to pose huge problems for many farmers with some estimates suggesting that a half of farmers would really struggle. However, my visit to the Bucknell's has given me confidence that many farmers are already gearing up for the challenge, looking at the most efficient way to grow high quality foodstuffs, identifying options to diversify, and not just preserving the countryside, but actively improving the environment in which they farm.