Luna Sensation
Luna Sensation is a combined new-generation SDHI and strobilurin fungicide for protected strawberries. It improves fruit quality and prolongs shelf-life for higher yields with less waste.
---
Document Downloads
You can also find labels, MSDS, tank-mixes and other key documents for all our products using our document search.
Downloads
How Luna Sensation increases yield
Luna Sensation is broad spectrum. It's proven among growers in Europe and recommended for all major fungal leaf and fruit rot diseases, particularly powdery mildew and Botrytis.
Its active substances – new fluopyram and trifloxystrobin – offer a dual MoA (mode of action) with complementary activity and bioavailability on most stages of fungal growth. In addition, of course, that means resistance management is built in.
For maximum effectiveness, Luna Sensation is best used as a preventative treatment in an integrated disease control programme with current standards such as Teldor and Serenade ASO. In addition, Luna Sensation has just a one-day PHI (pre-harvest interval).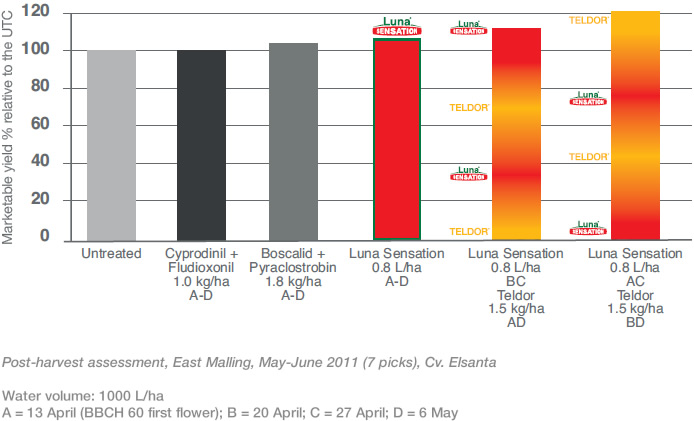 How

Luna Sensation extends quality

This video shows that Luna Sensation keeps fruit looking good throughout the food chain, especially
until it reaches the consumer.