New technology that predicts disease outbreaks before symptoms are visible promises to significantly improve future fungicide use.
New technology can predict disease outbreaks
Potentially helps tailor application timings and/or product choice
Projects include spore sampling linked to weather data and analysis of latent disease infections
Prevention is better than cure when it comes to disease control, so there are clear benefits from early detection.
Knowing in advance whether or not disease is present before symptoms arevisible will help tailor product selection and improve application timeliness, reducing the likelihood of having to 'firefight' disease.
Indeed, the reduced curative efficacy of many triazoles and need for resistance management across all pesticide groups means it is not sensible to over-rely on the curative action of any fungicide if we are to safeguard future efficacy. The ever-present regulatory spotlight heightens the need for more targeted fungicide use too.
Will Charlton, Bayer's Cereal Fungicides Campaign Manager, says early warning systems will allow much more targeted fungicide applications at the main T1 and T2 dates, which will remain key drivers of spray timing given the nature of wheat leaf emergence and potential damage from diseases such as Septoria.
"It's about providing growers and agronomists with accurate information to support decision-making and improve the  efficiency and effectiveness of spray applications."
In some cases there may be scope to make savings by using simpler tank mixes or more cost-effective products if disease risk is low, whereas in other situations disease forecasts may indicate a more robust fungicide strategy is needed, he
says.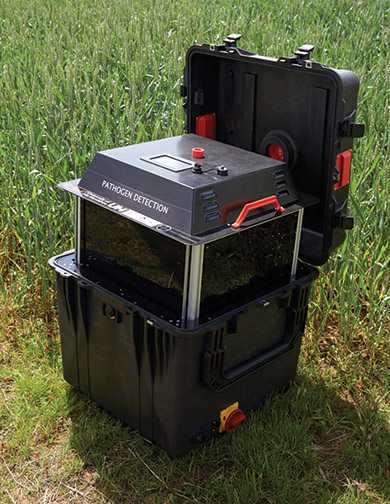 Modelling disease outbreaks 
One of the most exciting projects to forecast disease is the Innovate UK-funded 'smart spore trap' project; a collaboration between OptiSense Ltd, Fera, The University of Hertfordshire and Bayer Crop Science.
The unique system uses in-field spore sampling and weather data linked to computer modelling of latent periods and disease development to predict disease outbreaks. Detecting latent disease before symptoms occur could give three to four weeks' notice of an impending Septoria tritici outbreak, explains Fera's Neil Boonham.
After two years developing the technology, two prototypes are being tested in the field this season and he predicts commercial systems could be operational within two to five years. 
"Using automated field sampling of spores to predict when disease will occur has never been done before, but our work last season proves we now have a prototype that can detect real-life infection in field conditions. We need to work on how spore measurements translate to predictions of disease outbreaks and will refine the system over the winter to start field monitoring next spring."
The spore trap uses automated loopmediated isothermal amplification (LAMP) analysis to identify pathogen DNA, namely Septoria and rusts, and measures the amount of inoculum present. This information is combined with weather data from the site and sent to a central hub via mobile or satellite signal where computer models forecast disease risk. An alert similar to the Crop Monitor (www.cropmonitor.co.uk) forecast is then sent to growers before crop symptoms are visible.
The prototype will be tested on Crop Monitor plots in 2017 where it is hoped the benefits from improved spray timeliness and efficacy can be demonstrated.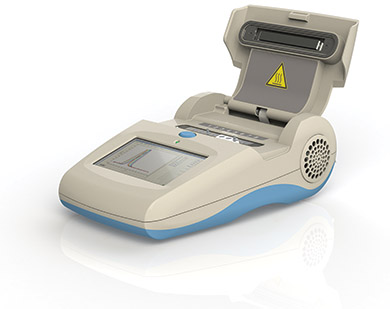 Leaf test
The same LAMP chemistry is also being used to develop a portable device that will allow growers or agronomists to detect latent Septoria in leaves while in the field.
The system has been lab tested during 2015 and 2016 and will be trialed in field situations at the flag leaf spray timing this
spring, although more work is needed before a commercial launch, says Professor Boonham. "Being able to confirm the type
and quantity of disease present before symptoms are visible could really help make more accurate and rapid decisions."
He acknowledges just quantifying the presence of pathogen DNA alone is of limited practical value and says the detection kit is likely to be accompanied by a computer model to predict emergence of disease symptoms. This may be a webbased app that uses sampling results to forecast disease risk in a similar way to the smart spore trapping and Crop Monitor system.
"The hand-held device is Bluetooth compatible, which allows data to be synced to such an app."
"Modelling pathogen growth and likely disease outbreaks is very difficult though, so it may be that the forecast predicts symptoms within a given number of days rather than a precise date."
Future applications
Systems currently being developed focus on detecting Septoria and rusts in wheat, but the technology could be applied to
many other diseases, crops and genetic traits.
"Both the spore trap and leaf analysis systems use DNA testing, so theoretically we could adapt this technology to test for any genes," says Prof Boonham. For example, it may be possible to detect genetic mutations that confer resistance to
fungicides or herbicides, he notes. 
Potato blight, plus Sclerotinia, light leaf spot and Phoma in oilseed rape are other diseases of interest for future UK systems, says Mr Charlton. "But tools must be accurate and reliable to give users confidence in the results." 
Prof Boonham adds: "Customs inspectors already use hand-held devices based on LAMP technology to test airfreighted goods for notifiable diseases, so the technology's already here, it's just a question of identifying where it can deliver the biggest benefit for farmers."
CASE STUDY: FOLIAR DISEASE DETECTION TAKES TO THE AIR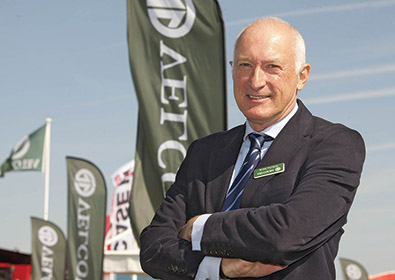 NAME: KEITH NORMAN
COMPANY: VELCOURT
POSITION: TECHNICAL DIRECTOR
Driving efficiency
Velcourt technical director Keith Norman says improving the efficiency of fungicide applications is a big draw of disease
forecasting tools.
"It's about using technology to take a pragmatic view on treatment and identify where products will deliver the biggest impact, whether that means a full SDHI programme where disease risk is high, or being able to make savings by using a cheaper product where risk is lower."
Velcourt is involved with two projects to improve disease detection.
Working with drone company Hummingbird and BASF, Velcourt is trialing the use of hyperspectral and multispectral aerial imaging to monitor changes in foliar disease throughout the spring growing season at two sites near King's Lynn, Norfolk and Andover, Hampshire. Plots are being managed to deliver different levels of Septoria and rust inoculum to see whether changes occurring within the plant can be detected from the air before symptoms are visible.
"The first year of results look really promising," says Mr Norman. "We've been able to detect changes in the wavelength spectrum, but need more work to see how this is associated with disease development."
The firm is also involved with real-time polymerase chain reaction (PCR) analysis of leaves to detect Septoria DNA in tissue
samples and identify the presence of latent Septoria infections in winter wheat.
"Again, it's been an encouraging start, but has raised a lot more questions that need answering. We've found appearances can be deceptive in both ways; leaves can look clean and green but still contain Septoria, whereas others with old lesions on the surface have been found to contain nothing inside the leaf." 
The weather is such a big driver of disease development that growers have to remain flexible at key spray timings, but having access to tools that highlight potential problems will reinforce decisionmaking, he says.
Related articles
All Product and agronomy news
Underestimate Ramularia leaf spot at your peril. While Scottish growers have been battling it for nearly 20 years, it's a disease all barley growers need to be wary of.

Agronomist Richard Cromie demonstrates how to dissect a wheat plant to identify final leaf three – the target for T1 fungicides.