These 'Which fungicide?' trials are one of the main sources of information in the UK for blight fungicide performance , which agronomists and growers use to construct effective programmes according to blight pressure.
The plots are treated repeatedly with individual fungicides throughout the season, and this year will receive 11 sprays in total at an average of 7-day intervals.
Nine of those sprays had been applied by the demonstration day on 23 August and the untreated control had already collapsed. This year's relentless rainfall and blight pressure have presented a tough test for fungicides and by this late stage of the season some interesting differences are starting to show.
The photographs below show plots in the Bayer CropScience section of the demo treated with repeat applications of the fungicides Infinito (fluopicolide + propamocarb), Ranman (cyazofamid) and Revus (manipropamid) which together are the top three in the current Euroblight ratings for effectiveness against leaf blight.
Foliar assessments done just before the demo day recorded Infinito with 5.6% blight leaf infection, Revus with 9.4% and Ranman with 13.8%.  These percentages reflect the fungicides' Euroblight ratings for curativity. Infinito has a two star rating, Revus has one and Ranman is rated as having no curative effect.
This is why under heavy and sustained blight pressure agronomists now routinely advise mixing of cymoxanil with Revus or Ranman, for added curativity, but find it's not necessary with Infinito.
It will be interesting to see how the fungicides continue to perform up to burn-down in mid September and the resulting impact on tuber blight levels developing in storage. We'll cover this in subsequent reports.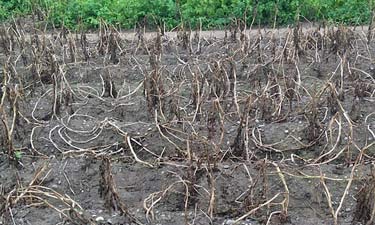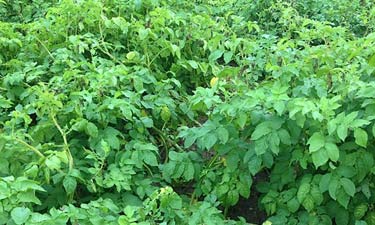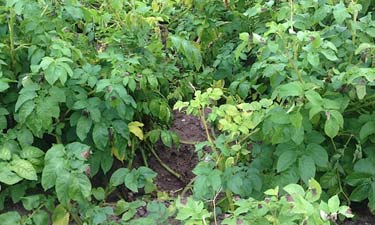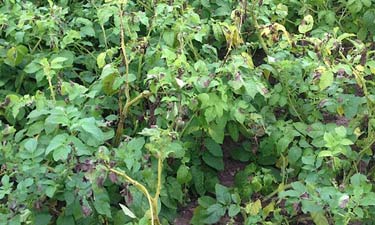 Revus is a trademark of Syngenta
Ranman is a trademark of Belchim international