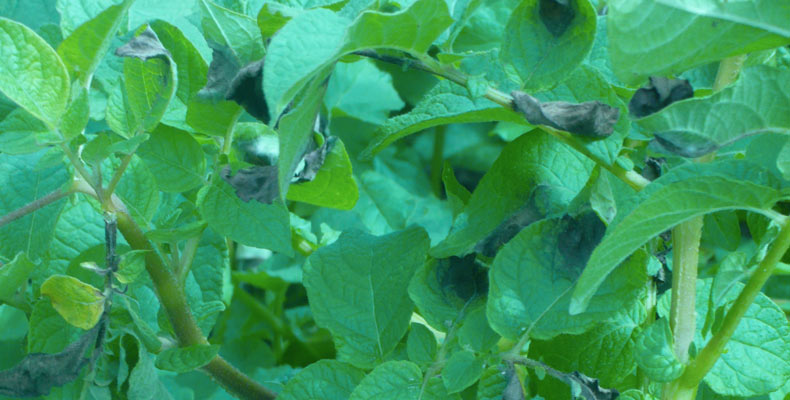 The continued dry weather in parts of the country has done much to slow the spread of potato late blight (Phytophthora infestans) this year. While at this stage in 2016 there were more than 70 confirmed incidents, the number of confirmed cases this year amounts to only a few.
This does not mean however, that crops are either free of disease or that the risks aren't present. Across Great Britain it is a case of highly local pressure. In Scotland, pressure is widespread with favourable conditions reported along the east coast from the Borders up to Aberdeen and around to Inverness. Perhaps not surprisingly this has resulted in numerous outbreaks and reports suggest pressure is approaching normal levels.
In England, there are pockets of disease being reported in each region and while not to the same extent as Scotland, we know from the disease epidemiology that it can spread rapidly when conditions are favourable.
In some crops, particularly those being irrigated, the humidity levels below the canopy will be favourable to disease sporulation. The consequence of this is that the focus must be on ensuring stems and lower leaves remain free of disease to protect against tuber blight infection.
Tuber blight protection is optimised by building it up from tuber intiation. Tuber blight activity derives from a reduction in spore mobility and viability, as well anti-sporulant activity. Selecting product combinations with activity in each of these areas provides a strong blight strategy.
Actives which have action directly against zoospores include fluopicolide, cyazofamid and fluazinam. However, it is often the case that products containing these actives need mixing to ensure robust protection against foliar blight.
One product which requires no tank-mix partner however, is Infinito (propamocarb + fluopicolide). It combines strong foliar protection with best-in-class tuber blight activity through both anti-sporulant and zoospore activity.
With news of a new strain emerging with reduced sensitivity to fluazinam, growers are being advised not to rely solely on fluazinam for tuber blight protection and to make greater use of products featuring different modes of action.