---
Document Downloads
You can also find labels, MSDS, tank-mixes and other key documents for all our products using our document search
Document store
Product Overview
(Active substances: fluopicolide and propamocarb hydrochloride)
Infinito gives you control of all stages of the blight life-cycle, as well as providing long-lasting control of foliar and tuber blight in order to maximise yields in your potato crop. Infinito is a co-formulation of two unique active substances – propamocarb and fluopicolide.
Why Infinito?
Infinito has two unique modes of action. It is the only blight product which is able to offer you the combination of high levels control of foliar and tuber blight with the reassurance of kickback activity.  Infinito should form the cornerstone of your canopy complete blight control programme and help you to tackle the challenges of the current aggressive strains of blight.
Infinito performance against current aggressive strains.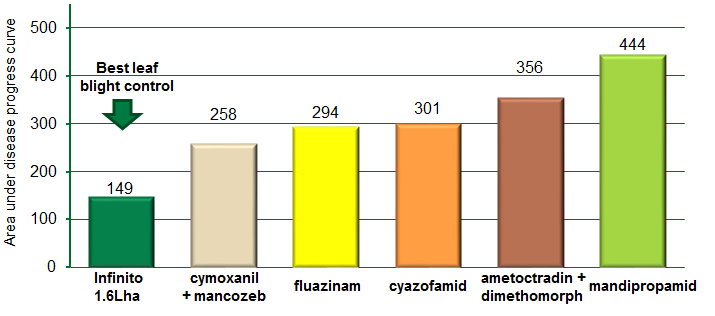 Main advantages
Proven performance against foliar and tuber blight
Systemic, protectant and translaminar activity
Consistent high-level protection for leaves, stems and tubers
Unique action on all stages of the blight life-cycle
Outstanding anti-sporulant activity
Long-lasting, rainfast in one hour and no LERAP
Excellent crop safety
For use in the canopy complete part of the programme
Infinito anti sporulant field trials.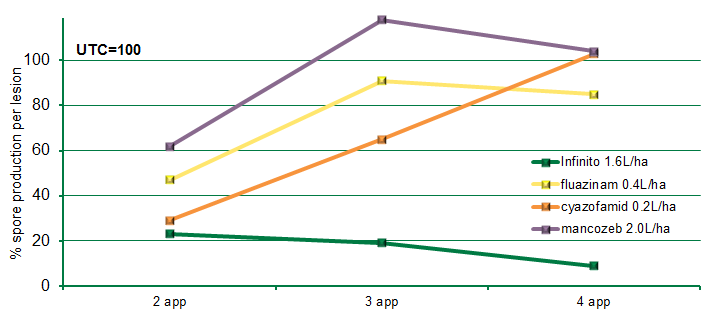 Getting the best from Infinito
To get the best performance from Infinito and achieve effective protection against all strains of blight, use it at 1.6 L/ha at seven-day spray intervals. Before application always read the label.
Depending on variety, crops start to flower and initiate tubers towards the end of the rapid growth stage when the canopy is almost complete. Using Infinito before this does not make best use of the tuber blight activity of fluopicolide. The best time to incorporate Infinito into a blight programme is from canopy completion onwards.
Important things to remember
Infinito is designed for use as part of a programme, following the rapid phase of growth
Infinito will protect tubers from late blight infection prior to harvest and reduce blight incidence in storage
Infinito can be used on all varieties of potatoes and crops grown for seed
Apply only to dry foliage, do not apply if rainfall or irrigation is imminent. Rainfastness is one hour provided the spray has dried on the leaf
Avoid drift to areas outside those being sprayed
Apply only as a protectant treatment, do not use once blight has become readily visible in the crop
Do not exceed 6.4 L/ha per crop
Infinito as part of a programme
Infinito should be used as part of a programme to control Late blight in conjunction with a product such as Consento, which can be used during the rapid growth stage. Infinito can then be applied during the mid to late season to provide robust foliar and tuber protection.
Infinito performance against current aggressive strains trial: UK Eurofins 2013 What Fungicide Demo, Derbyshire. 11 sprays at weekly intervals. Infinito anti Sporulant field trials: Wageningen University, PPO Lelystad research centre, Holland. 4 sprays at weekly intervals