Spray Records
Good record keeping is not only a sound management discipline, especially with regard to use of pesticides, it is a legal requirement. These pages, compiled by Bayer CropScience, are designed to facilitate the recording of a range of field data with special emphasis on pesticide usage.
Click here to download spray record sheets.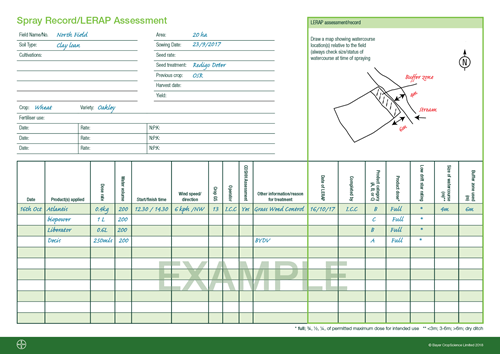 How to complete the spray record sheet.
Click here to download a completed example.
Soil texture '85 system
Textual Group
Symbol
Soil texture (85) system
Sands

CS

S

FS

LCS

coarse sand

sand

fine sand

loamy coase sand

Very light soils

LS

LFS

CSL

loamy sand

loamy fine sand

coarse sandy loam

Light soils

SL

FSL

SZL

ZL

sandy loam

fine sandy loam

sandy silt loam

silt loam (85)

Medium soils

SCL

CL

ZCL

sandy clay loam

clay loam

silt clay loam

Heavy soils

SC

CL

ZC

sandy clay

clay

silty clay