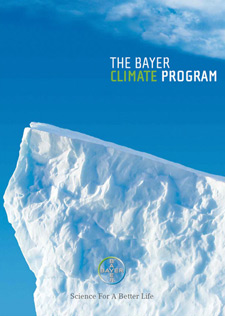 Through the Bayer Climate Program the company is driving forward its activities to reduce its climate footprint and respond to climate change. The Bayer Climate Check, for example, is a new tool for reducing CO2 emissions in production processes.
Bayer's work in these areas has been recognised globally, and we have achieved the top international ranking in theCarbon Disclosure Leadership Index, which lists the companies that display the greatest transparency in climate reporting.
Furthermore, Bayer has again been recognised as "best in class" in sustainability as described by the Dow Jones Sustainability World and European Indices.
Looking ahead, Bayer continues to explore innovative ways of tackling the issue of climate change. One such example is research into a novel process where the greenhouse gas CO2 is used as a raw material for the production of plastics.