Sowing the crop
Set up and check drill operation on a part of the field yet to be sown - never check over grass where any spilt seed is difficult to clear up. Be aware of the risky conditions ahead of drilling, such as stony or cloddy soils, or where there might be a lot of surface trash.
Seed not covered by the drill
Drills cannot perform properly on poor seedbeds. Even on better-prepared fields, conditions on headlands can especially in corners can be less than ideal, causing the drill to leave seed uncovered.
Always use a drilling technique that places treated seed into the soil and never broadcast or autocast (this is not permitted on seed treatment labels).
Best drilling practice - top tips
Never drill around tight corners; this will force coulters out of the soil
Select drilling speed according to the manufacturer's recommendations; drilling too fast can leave seed uncovered
Ensure that the drill is moving forwards before lowering coulters into the ground; this will ensure that all seed is covered
Take cover when lifting the drill in and out of work. Shut off seed mechanism a metre before row ends so that no seed will spill from the coulters as the drill is lifted
After drilling
Before leaving a drilled field, check areas where there is greatest risk of seed remaining uncovered. In particular, check cobbly areas of fields, headlands and corners. Also recheck areas where the drill was filled, set up and emptied. Bury any visible seed.
Also check the main body of the field for areas of poor seed cover. If there are large areas of exposed seed, the only solution is to harrow and then roll as advised by product labels.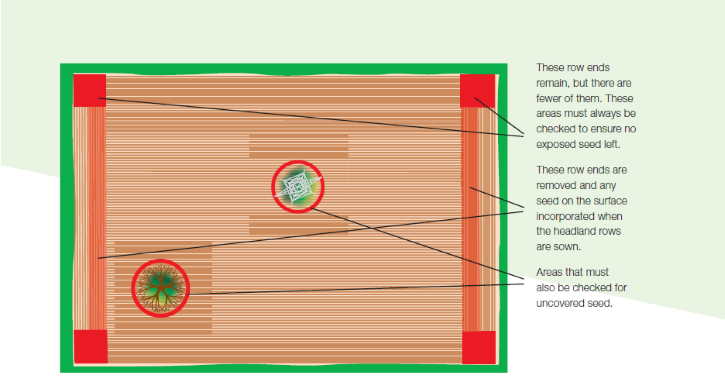 Advantages of sowing headlands last when using cereal drills.
After drilling, continued:
It is good practice to keep a record of the drilling operation to show diligence and to confirm that seed coverage has been checked. There's an example on page18 in the stewardship guide.
When you have completed drilling, remove all seed from drill, ensuring that all seed and dust is collected for safe disposal. Never burn treated seed on farm - it's illegal
Collect up all empty sacks before leaving field
Never re-use bags that have contained treated seed for any other purpose than storing original treated seed
Store left-over seed in original bags with labels, in a secure store for later use of safe disposal
Use seed in season of treatment and do not store treated seed more than three months unless label states otherwise
Ensure dry, safe storage of seed that prevents access by pests, livestock, birds and small mammals
Wash hands immediately after use and before eating or drinking
Use bird scarers where necessary to deter bird feeding activity soon after drilling
Take special care to avoid spills and collect empty bags near footpaths and areas of public access