Preparing to drill
It is now a legal requirement that adequate seed drilling equipment shall be used to ensure a high degree of incorporation in soil, minimisation of spillage and dust emission. Always ensure that drills are properly maintained and calibrated. Before starting work, check that drill components and coulters are set up correctly.
Take time to prepare good seedbeds appropriate for the crop and the drill that is to be used. If a contractor is going to drill your crop, discuss seedbed preparation with them beforehand.
Always handle bags of seed with care to avoid abrasion
Handle large or heavy bags safely (fork lift operator must be trained). Before handling or drilling seed, take these precautions:
Read seed tags and follow requirements
Wear appropriate PPE when handling seed
Wash hands immediately after use
Handle large or heavy bags safely
Ensure operators are appropriately trained
Do not re-use seed sacks except for storage of unused seed
Dispose of waste seed bags safely such as via an approved disposal contractor
Avoid dust from treated seed
In the past, the risk of dust emission from seed seldom received the same focus as spray drift. However, there are some situations where this comparison is relevant. Pneumatic precision drills with a vacuum-based sowing system are used for some crops such as maise; these can emit exhaust air into the environment. Dust can drift considerable distances on windy days, so you need to consider wind strength and direction abrasion of seed before loading and by the drill can result in low concentrations of seed treatment active substances being emitted in the dust.
To minimise this risk, it's important to avoid creating unnecessary dust and prevent discharge of any dust created by drills. The first step, is to check that seed delivered on farm is not obviously dusty. If it is, don't use it, but return it to the supplier for exchange or reprocessing.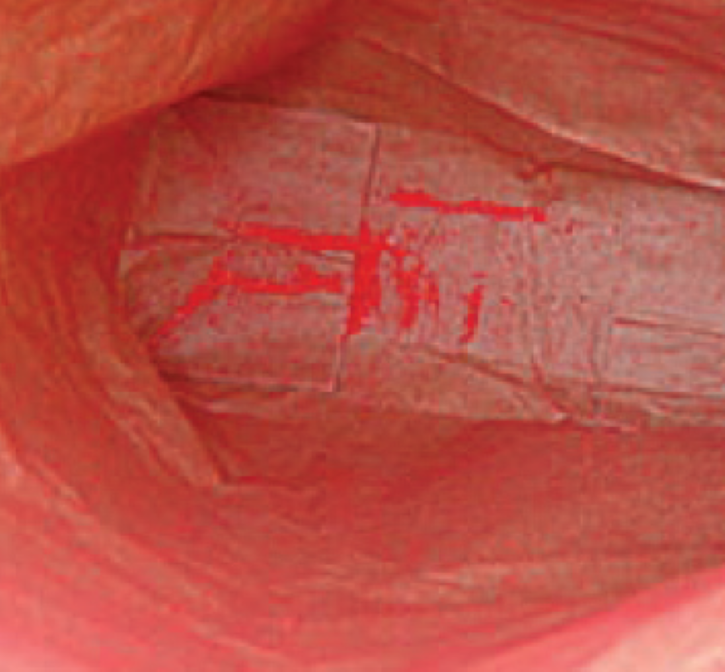 Dust left in seed bag must be disposed of safely
Prevent dust discharge from drills
Mechanical and pneumatic pressure drills operate so that dust is not discharged into the air. They therefore don't pose a great risk when used as per manufacturers' recommendations. However, older conventional vaccum-type pneumatic drills are likely to need adapting with an engineering control to discharge the drill's air stream into the soil or close to the surface. This will minimise emission or abraded seed treatment particles from drills. Drills now on the market are supplied ready adapted.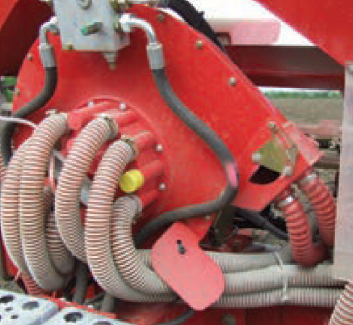 Vaccum drills must be manufactured or adapted to prevent dust being released into the air
Help with drill modification
If you have an older vacuum drill, or one that you haven't used recently, please contact your drill manufacturer; they may provide a modification kit.
Avoid unnecessary dust
Handle seed bags with care, especially when loading the drill
When filling drills don't drop seed from height but pour carefully
Don't tip any dust into the drill; leave it in the bag for safe disposal
Don't drill too fast, particularly if the soil is dry, uneven or poorly prepared
Use seed from a European Seed Association- or Bayer-approved supplier.
Seed spills
These are one of the greatest risks and usually caused by poor operational practice such as:
Sloppy filling of the drill
Poorly maintained machinery
Checking drill operation or calibrating without catching seed
Failing to ensure seed is not being released when drill is in transit or not in work
To avoid spills:
Take time and care when loading or emptying drills and when calibrating
Load drill on field area to be drilled or in yard where spills can easily be collected but ensure this is always from drains. Also avoid areas with public access
Do not fill drill or calibrate on grass or over other vegetation as split seed cannot be recovered
Ensure no seed can be split while travelling outside the field
Use the most appropriate drill for the task in hand
Any size spill is important. Deal with is immediately.
Always catch seed when checking drill.
Dealing with spills
Small in-field spill - bury where it is
Large spills and any spill outside field - collect immediately and store in original bag for disposal. Never leave until later
Don't dispose of treated seed in margins or non-crop area