T2 Fungicides
The unique properties of AscraXpro means that it is ideally suited to the T2 timing in winter wheat. Its ability to control Septoria and deliver outstanding yield benefits gives growers unrivaled protection for their crops and increased profitability.

AscraXpro boosts disease control, especially Septoria, to new levels thanks to the strong azole backbone of prothioconazole and the combination with two SDHIs in bixafen and fluopyram. The later makes the difference - increasing curativity and bringing extra consistency - meaning performance reaches a new standard.


Typically apply AscraXpro at 1.2 L/ha - this dose provides the 80% dose of prothioconazole to provide the strong backbone required for Septoria control, and activity on other diseases, such as rusts, mildew and Fusarium, while applying an appropriate dose of SDHI chemistry.
To achieve this broad spectrum risk management and non-disease yield boosting benefits use 1.2-1.5L/ha AscraXpro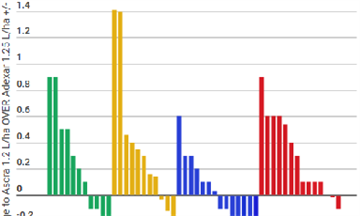 Yield improvement over Adexar in contrasting seasons
Across 5 contrasting seasons, Ascra<sub>Xpro</sub> has yielded more than Adexar in nearly 70% of trials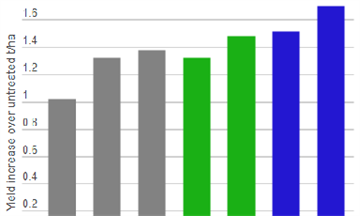 Results from ALL 5 T2 AICC trials 2016
Across different diseases Ascra<sub>Xpro</sub> outyielded previously recognised standards for disease control at T2.