Six steps to build sugar beet yield
The 2017-18 sugar beet crop will be the first to be harvested outside the European Union's quota restrictions and with growers keen to go all-out for yield, Edward Hagues and Roger Bradbury of the Bayer roots technical team have compiled a list of six steps to maximising performance.
1)   Aim for 100,000 established plants per ha
Good yields begin with good establishment. Studies have shown that up to 70% of crop potential depends on seedbed conditions at drilling, so be ready to 'go' as soon as the circumstances allow and be prepared to up the seed rate when necessary.
The intention should be to produce a fine seed bed that promotes rapid emergence and a uniform plant stand, optimum timing of cultivations will be season dependent.  Under suitable conditions, the yield potential of a crop drilled on 1 March is about 10% higher than one drilled on 1 April.  However, priority should be given to conditions at planting, when soil temperatures should be at least 5C.
2)   Avoid 'hot' mixes. Use herbicides that are both highly effective and give good crop safety
A high level of weed control is essential to maximising sugar beet yields: just one tall weed, such as fat-hen, per square metre can reduce yields by 10% or more. But potential is easily checked with so-called 'hot' mixes or if applied when the crop is under intense stress, such as prolonged dry weather.
By following the flexible strategy based on Betanal maxxPro (ethofumesate + desmedipham + phenmedipham + lenacil) with its advanced formulation technology, growers can achieve effective broad-spectrum control from post-emergence applications while being confident of crop safety.

3)   Prioritise problem weeds
Sugar beet can be an excellent opportunity to tackle hard-to-treat weeds. In all cases, efforts to control problems weeds, such as black-grass, should take priority as control is more readily achieved when the target is small as the risk of failure increases as the target gets bigger.
This then requires careful selection of effective products where the broad-leaved weed programme is delayed because of the need to observe intervals caused using certain products, such as graminicides.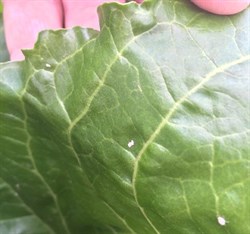 4)  Be ready for Beet leaf miner (Pegomya hyoscyami)
For the past two seasons, some sugar beet crops have come under intense pressure from leaf miner, the larvae of the Mangold fly. In 2015 activity was concentrated on a small area around The Wash, but last year the pest was found as far north as Yorkshire. A seed treatment of Poncho Beta is the first line of defence and gives protection for up to 12 weeks, the objective should be to get the young plant established while the seed treatment is still providing protection. 
For later leaf miner generations, monitoring the crop for leaf miner eggs on the underside of leaves, and ensuring correct timing of insecticide application to egg hatch, are key to making the most of any foliar treatment.
5)   Protect against disease
Powdery mildew and rust are the diseases most damaging to sugar beet with the potential to reduce yields by up to 20% and 14% respectively. Of the two diseases, rust is the most prevalent and having a programme to control it is vital. 
The first fungicide should be applied (typically from mid-July onwards) at full-rate to achieve maximum efficacy and protection. A second application should be applied four to six weeks later to extend protection into the winter months and maintain a healthy canopy.
In BBRO trials crops that received two applications of Escolta (cyproconazole + trifloxystrobin) yielded 10-15% more on average than untreated while crops that receive only a single application yielded just 5-8% more than untreated.
6)   Plan lifting
Match your following crop, soil type and delivery schedule to maximise the time the crop spends in the ground. Fungicides have been central to improving crop performance through better disease control, but also by keeping the canopy healthy and greener heading into the winter. To make the most of this benefit however, the crop needs to be left in the ground to keep growing. This will only suit those on light land and where the following crop allows, but trials suggest that if the crop is still growing it pays to leave it in the ground.