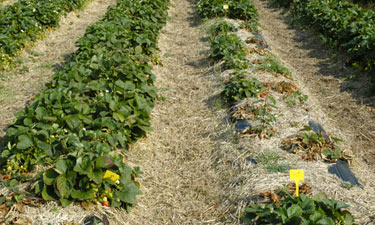 Its arrival is timely after the approval of Aliette (fosetyl-aluminium) expired at the end of October leaving growers with only one chemical control option; Paraat (dimethomorph) with only one permitted application per year.
Recent HDC funded projects led by Dr Angela Berrie have found that Fenomenal applied as a drench significantly reduces the incidence of crown rot and is as effective as previous standards Aliette and Paraat.
IMAGE - A Bayer trial in Belgium 2009 on variety Malling Pearl. Plants on the left received two drenches of Fenomenal, plants on the right are the untreated control.
Peter Newman, Bayer's fruit specialist, says Fenomenal combines the strength and flexibility of fenamidone – a key active substance in potato blight control – with fosetyl's ability to activate Systemic Acquired Resistance (SAR); the plant's natural defence mechanism against attack. "It is highly effective against crown rot and red core and as a co-formulation offers built-in resistance management."
Hutchinsons' agronomist Andrew Taylor stresses that any help plant material can get this year will be a bonus. "I will be recommending Fenomenal for use where plant material has been frosted or waterlogged."
Application options are pre-transplantation dip, post transplantation drench or foliar spray. A maximum of two applications are allowed per year including one foliar spray. Peter Newman advises that applications closest to planting are most effective. Latest time of application is 35 days before harvest.
Dr Berrie welcomes Fenomenal's activity against red core. "Aliette was so effective that growers had stopped treating for it which allowed a resurgence from the very wet late summer and autumn of 2010.
"It was a costly reminder that this pathogen can survive in the soil thirty years or more. 2012 was also exceptionally wet for most of the summer and autumn so there may be more problems this spring."