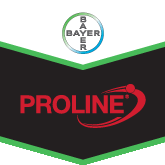 Proline 275
Active Ingredient:
Prothioconazole
Key aim:
 To protect petals from infection from ascospores released from apothecia germinating within the crop or in fields nearby.
Thresholds:
None have been published for treatment of this disease.  As treatment relies on coating of petals the optimum timing for control has been identified at mid flowering, ahead of the main period of petal fall.  Follow-up sprays may be required  three weeks later if the crop is still in flower to maintain protection.
How to use:
Apply 0.46 L/ha Proline275 at early to mid-flowering.  Follow up with 0.32 L/ha three weeks later if flowering continues
If using a single spray approach apply 0.46 - 0.63 L/ha Proline275 at mid-flowering
A split spray approach has been shown to be the best, especially in high disease pressure situation or when flowering is prolonged.  In a split spray approach the first spray will have the biggest impact on final yields, Proline275 has been shown to perform better at this timing than competitors. Where a single application is used, if flowering is prolonged, the crop will not be fully protected against later infections of Sclerotinia.
Benefits:
Proline275 offers increased persistance over other products at this timing.  It's superior light leaf spot control can prevent pod infection when used at this timing.  In other crops prothioconazole is used for the control of powdery mildew which can be a problem in OSR at this time.  Prothioconazole has been shown to have activity against Alternaria when used to control Sclerotinia, there will be more effect from later applications.