Target: pre-drilling, rotational strategies
Key aim: reduce the levels of the disease in a crop by using an integrated strategy involving varietal resistance and rotation
Varietal resistance:
for areas where LLS is a concern then it is important to use a variety with good resistance to this disease. The severity of LLS in Scotland and the North of England has decreased since growers in this area have been planting varieties with better resistance to LLS. The optimum time for treating crops for LLS is mid to late November, with a follow up spray as soon as symptoms are seen from January onwards. Trying to apply fungicides at this time of year can often be difficult because of weather or ground conditions. Varietal resistance will help to reduce the disease severity if the spray timing is compromised.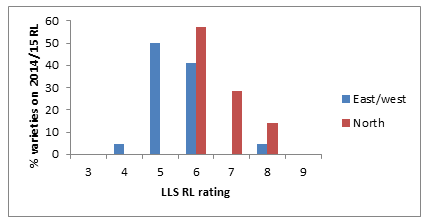 Source: SRUC
Varietal resistance to Phoma:  

Varieties such as Harper and Fencer with excellent Phoma resistance greatly help to protect the crop from yield robbing stem canker. They can also offer extra benefits in helping to control LLS and keeping input costs down. Varietal resistance will always need to be backed up by a fungicide application to ensure that it doesn't break down. Strong Phoma resistance can help to delay the onset of this disease so that a single fungicide application can be made in November to protect against LLS and support the Phoma resistance of a variety. The ability to delay fungicide applications in the autumn can also have the additional benefit of enabling a wide enough application window for Centurion Max in October/ September.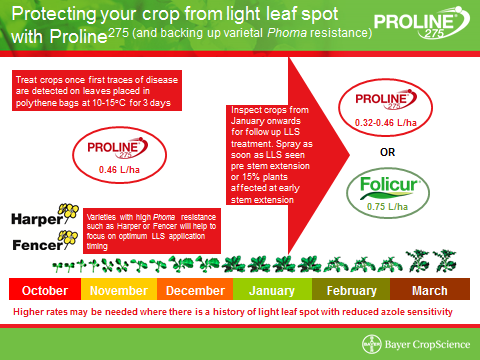 Rotation: In the past twenty years the area of winter OSR grown in the UK has more than doubled, leading to tighter rotations on farm. There is evidence that this has led to the plateauing of national OSR yields. Clubroot, Sclerotinia and verticillium wilt are all soil borne diseases, where the intensity of OSR rotation is directly linked to the risk of the disease. The primary source of inoculum for LLS is from trash from previous crops, so growing crops adjacent to previous OSR crops in a tight rotation will increase the chance of a LLS epidemic. It is thought that one of the reasons for an increased prevalence of LLS in the south of England is due to greater inoculum from the trash of OSR grown in tight rotations.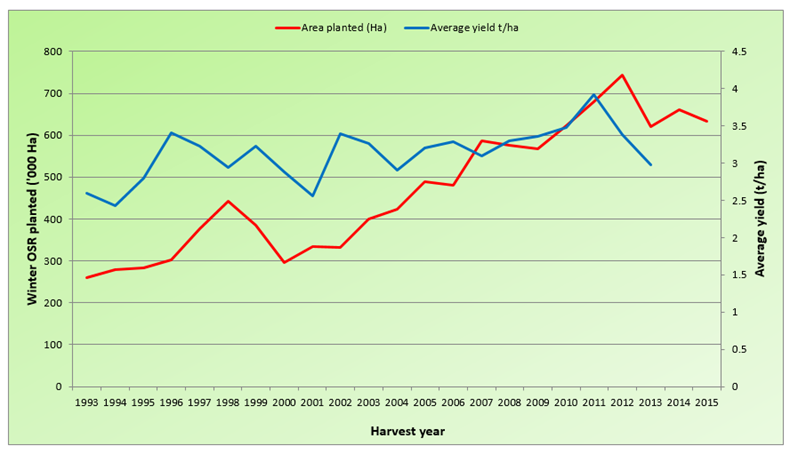 Source: Andersons crop area forecast November 2014
Benefits: to maximise yields and reduce the amount of fungicides applied to the crop.
More key timings