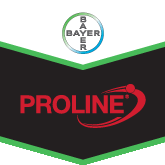 Proline 275
Active Ingredient:
Prothioconazole
Key aim:
To protect leaves against infection from the air-borne ascospores of both Phoma and light leaf spot (LLS).
Preventing the yield robbing stem canker
Protect the plant from LLS before weather conditions become unfavorable for spraying; otherwise the disease can proliferate through the winter.
Thresholds:
Phoma: when 10 to 20% of plants are showing leaf spot symptoms.
LLS: when early symptoms can been seen on leaves placed in a polythene bag and kept at 10-15°C for 3 days.
How to use:
If the Phoma threshold is reached then apply 0.32 L/ha Proline275.
Apply 0.46 L/ha Proline275 in early to mid-November to protect against LLS if the threshold hasn't been met earlier. Rates up to 0.63 L/ha can be considered in areas where disease pressure is higher.
Monitor crops from early January using a lens and plastic bags to incubate leaves to help spot infection and be prepared to apply a further minimum of 0.32 L/ha Proline275 as soon as LLS is detected.
Varieties with a high Phoma resistance such as Harper and Fencer will help to correctly time the late autumn application of Proline275 .
Benefits:
Proline275 is the most robust and comprehensive autumn OSR fungicide. It is the leading product for the control of LLS and will also give excellent protection against Phoma