Carrots & parsnips
Alternation with Movento and Biscaya gives best control of sucking pests, particularly carrot willow aphid (Cavariella agopodii) which has recently been shown to exhibit resistance to pyrethroid insecticides.
These are typical programmes in carrots where aphids appear in the crop in the early crop stages. In general, the key focus of Movento-Biscaya aphicide programmes is from May to mid-July when migration peaks and populations are multiplying strongly. Use Biscaya for knock-down effect on migrating aphids and Movento to prevent population growth and spread.
Thanks to re-registration during 2018, the latest time you can now apply Movento in carrots and parsnips is three weeks before harvest.
Example programmes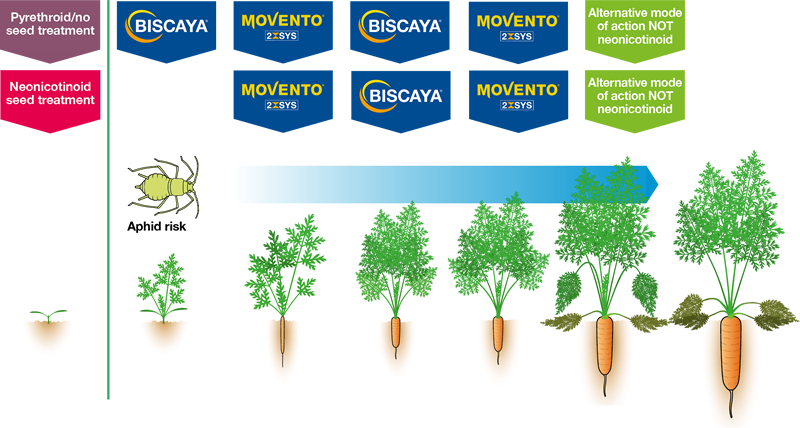 Strong results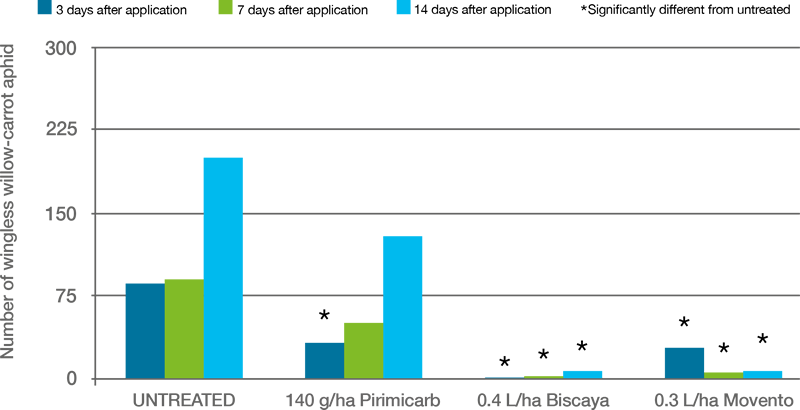 Pirimicarb is no longer authorised in this crop in the UK
Movento and Biscaya significantly reduce the number of aphids after a single application. Graph shows wingless willow-carrot aphid reduction (BCS contract trial 2016: Warwick University, 1x application. Treatments applied 10 June).
Resistance management
Use Movento with other insecticides that have a different MoA (mode of action), either in alternation or as a two-spray block within the programme.
If you use a neonicotinoid seed or soil treatment, apply Biscaya once only, separated by an aphicide with a different MoA. The Movento user guide will tell you more.
Next