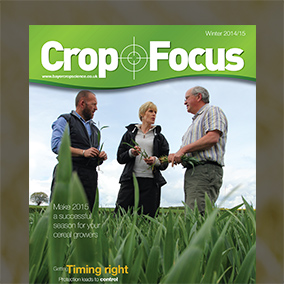 Our Crop Focus magazine is designed to bring growers like you, useful advice on the best use of crop protection in Wheat, Barley and Oilseed rape crops.
We talk to industry experts, local independent agronomists and growers from around the country to get an understanding of how to deal with the issues they're facing in producing successful and profitable crops.
In this edition we look back at the highs and lows of 2014 and the unprecedented disease levels seen in crops; how the use of cultural controls and well timed sprays are essential to good crop protection and an innovation in time-laspe photography which is helping to give a better understanding of how to keep crops clean and healthy.