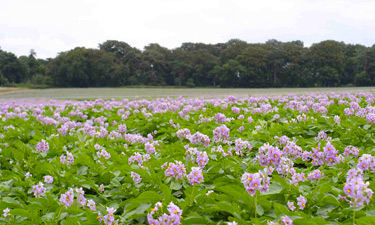 Background
Our Monceren products are formulated as powders for tuber treatment. They are the market leading tuber treatments for the control of Rhizoctonia solani (Black scurf) and offer the maximum in treatment flexibility for the professional potato grower.
Although Monceren is classified as not dangerous to game, wild birds or animals, it is still important to minimise impact for the operator and the environment. As with all crop protection products, good stewardship of the product will help to protect the environment and makes good sense for your business. For it to work it must be on the target.
Guidelines
The following guidelines are a measure of best practice:
Always read the product label before use
Wear the appropriate protective clothing when treating seed
Dispose of used product packs in a safe way
If bulk boxes are used for treated seed they must not be used for the harvested crop. Better still use and on-planter applicator
Ensured that any spilt or uncovered treated tubers are cleared up or buried immediately
Don't apply to damaged or cut tubers
Don't feed treated tubers to humans or animals
Team Sprayers powder application and calibration demo
A demonstration video of best practice for the application of Bayer powder treatment through Team Sprayers on planter applicator with a Digimon control can be viewed here.