Pollen beetle can be far more damaging to spring crops than to winter OSR. This is because pollen beetles move into spring OSR fast and in large numbers from winter crops when they have finished flowering and become unattractive to them.
This movement is often just prior to flowering of spring crops in late April and into May. Populations of 50 or more beetles per plant are possible and warrant prompt treatment to protect yield potential.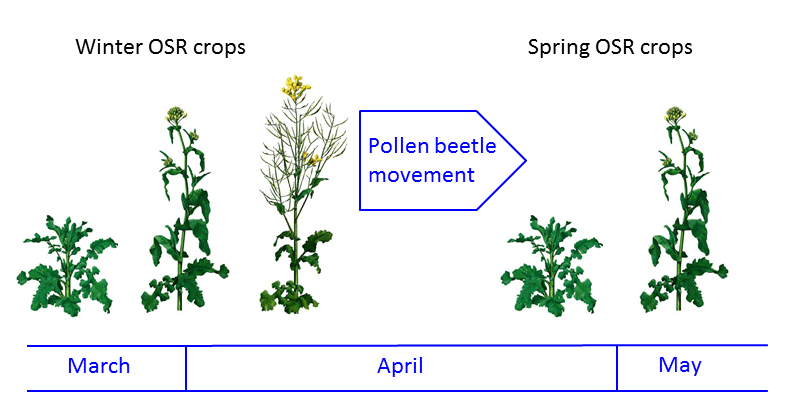 Pollen beetle traps have been developed from recent HGCA research and are now commercially available from Oecos. These have value in detecting local movement into crops.  The traps are more attractive to pollen beetles than OSR plants so beetles will be found on traps before they are found in crops.
Researchers have not yet been able to calibrate trap catches with crop numbers, so they are a useful indicator of when it's time to get into fields and monitor but are not an alternative to monitoring.
Revised thresholds for winter and spring oilseed rape
HGCA Information Sheet 18/Spring 2013 'Monitoring and control of pollen beetle in oilseed rape
| | |
| --- | --- |
| Plant population per m2 | Pollen beetle per plant |
| <30 | 25 |
| 30-50 | 18 |
| 50-70 | 11 |
| >70 | 7 |
Pollen beetle resistance to pyrethroid insecticides is now widespread, so if you need to control pollen beetle there's a high risk that a pyrethroid will not be effective.
Biscaya will control even the most resistant pollen beetles. In recent trials yield responses from Biscaya have outperformed competitor treatments and ranged from 6.5% (under low beetle pressure) to 12.5% (under high beetle pressure) over untreated.
Integrated Pest Management checklist – Spring oilseed rape

Know your plant populations
Monitor movement into crops with Oecos traps
Assess beetle populations in crops
If thresholds are breached, apply Biscaya at 0.3 L/ha
DO NOT apply insurance sprays
Click here to download HGCA Information Sheet 18 / Spring 2013