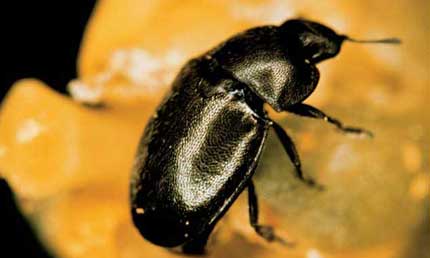 The Bayer Pollen Beetle Predictor forecasts the start, peaks and progress of pollen beetle migration into winter OSR crops giving you the information needed to tell when it's time to get out to the field – or not – and see what's happening in crops.
Compared with previous advice – to monitor from green to yellow bud whenever temperature is 150C or higher – using Bayer Pollen Beetle Predictor can help reduce monitoring time. It also focuses monitoring effort to when it's most needed, helps avoid unnecessary spraying and improve treatment timing accuracy.
BAYER POLLEN BEETLE PREDICTOR IS LIVE!

The pollen beetle predictor is best viewed on a tablet or desktop.
How to use the Bayer Pollen Beetle Predictor

Bayer Pollen Beetle Predictor is a version of the proPlant tool used widely in Europe. It was validated for the UK by HGCA project RD-2007-3394; 'Development of an IPM strategy for control of pollen beetles in winter OSR'.  Completed in March 2012 this four-year project was led by Dr Sam Cook at Rothamsted Research and jointly funded by Defra-LINK, HSE-CRD and AHDB-HGCA.
Although all risk predictions and forecasts published by proPlant and Bayer CropScience Limited are provided to you in good faith, their accuracy cannot be guaranteed and they are NOT a substitute for rigorous fieldwalking in combination with advice from BASIS qualified persons. Therefore you assume sole responsibility for any results obtained from the use of the Bayer Pollen Beetle Predictor and any decisions taken or conclusions drawn from such use. proPlant GmbH, Bayer CropScience Limited and members of their respective groups accept no liability for any loss or damage resulting from the use of the Bayer Pollen Beetle Predictor.
Pollen Beetle Weekly Bulletin: