Eight reasons you'll be glad you planted InVigor OSR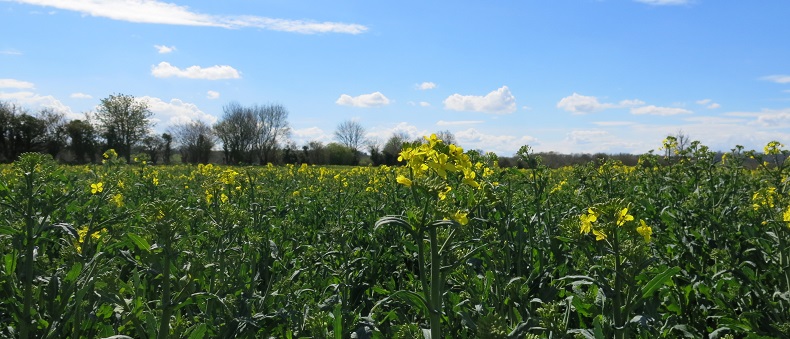 In difficult times the temptation for many oilseed rape (OSR) growers, and indeed the advice given to many of these growers, will be to cut costs, reduce inputs and hope for a reasonable margin when it comes to harvest. However, we believe that in times of adversity, it is vital growers ensure they still have a valuable crop at the end of harvest, even if this means making an upfront investment.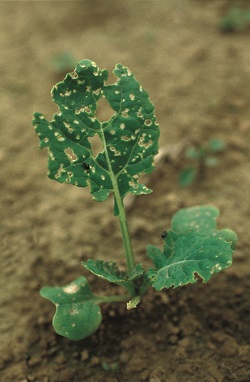 There is no doubt that hybrids are more vigorous and resilient to agronomic and environmental pressures throughout the season. It is very difficult to truly predict when these pressures will be each year, but we have seen our InVigor hybrids bounce back after substantial damage caused by flea beetle (both adult and larvae) and pigeons.
So why would you grow a hybrid OSR variety? Below, we've listed eight reasons why you'll be glad you planted an InVigor hybrid.
More vigorous
As part of our hybrid breeding programme, we cross genetically diverse parent plants to produce stronger offspring – a process called heterosis.
The result is clear to see in our InVigor OSR hybrids: outstanding autumn vigour and faster development in the spring.
Through working with UK growers, we have found this is particularly appealing for growers concerned about cabbage stem flea beetle larvae attack, who need a variety able to establish quickly and grow away from pest problems.
Class-leading oil content
In difficult market conditions, oil content and the subsequent bonuses available are more important than ever to OSR growers. We know that oil content is under genetic control and is much more consistent than seed yield.
All of the InVigor OSR hybrids have class-leading oil levels, offering a significant bonus to growers. One of our latest InVigor hybrids – InV1030 – has a higher oil content than any other recommended variety.
If growers select an OSR variety such as InV1030 (oil content – 46.2%) they could expect an oil bonus as high as £142/ha. Taking into account current grain prices*, this would result in an income of £1,669/ha.
Robust disease resistance
InVigor hybrids all have robust disease resistance to the key OSR diseases and very high levels of Phoma stem canker resistance come as standard.
As light leaf spot continues to spread further south, it is becoming a major concern for UK OSR growers. With the additional benefit of excellent resistance to light leaf spot (7), InV1030 heralds an exciting step change in the InVigor OSR portfolio.
Bigger yield
We conduct field trials and work with growers around the UK to better understand how our hybrids perform in 'real-world' on-farm situations, and in different seasons, with variable disease pressures.
Growers' experience has told us that better gross outputs and exceptional consistency of performance are being achieved with our InVigor hybrids.
Harper, our first recommended OSR hybrid, only varied by three percent over three years for gross output, demonstrating the reliability you can expect from the InVigor hybrids.
Stronger damage recovery
Extreme damage from pests such as pigeons, or severe winter weather, can cause complete crop failure, resulting in significant costs to growers in purchasing additional seed for spring crops.
We've put our InVigor hybrids through extreme testing and found that even after being mown to the ground, they have incredible resilience, and are able to recover exceptionally quickly.
This resilience also means farmers are more likely to achieve a viable crop when planting in marginal conditions.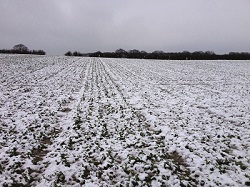 Wider sowing window
With unpredictable weather at harvest, and workloads ever increasing, flexibility is essential for UK growers.
In particular it is becoming more common for OSR to be drilled late in the season, due to delays at harvest – a situation InVigor hybrid Fencer is particularly well suited to, and is still able to produce competitive yield and oil content in.
InVigor hybrids allow growers to sow later, to help avoid pest problems and support grass weed control, as well as spreading workload more efficiently.
Lower sowing rates
To maximise yield it is important to establish the correct number of plants, to create the optimum sized canopy at flowering. Crops with excessively large canopies, either from drilling too early or too high a seed rate, will be at high risk of lodging.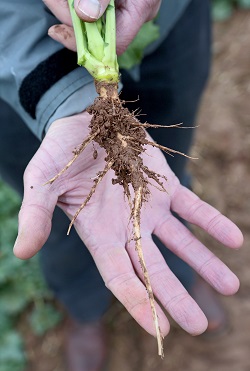 InVigor hybrids require a much lower sowing density than conventional varieties to establish a comparable plant population. The economic optimum seed rate for InVigor OSR hybrids is between 30 and 50 seeds/m2, with the aim of establishing a population of 25-40 plants/m2.system
Highly developed root systems
With anecdotal evidence that the seasons are becoming more profound, there is a risk of more common summer drought conditions. If this is to happen, then high soil quality and effective uptake of nutrients in OSR crops will be even more important to growers.
Because of their highly developed and effective root system, InVigor OSR hybrids are able to optimise their uptake of water and nutrients.