| | | |
| --- | --- | --- |
| Yield components |   |   |
| Gross output | 100% | High |
| Seed yield | 99% | High |
| Oil % | 45.8% | Very High |
| Glucosinolate content | 10.6μmol | Very low |
| | |
| --- | --- |
| Agronomy |   |
| Regional suitability | National |
| Soil types | No differences known |
| Sowing date | Mid-March - mid-April |
| Sowing method | No differences known |
| Harvest method | Desiccation or swathing |
| | | | |
| --- | --- | --- | --- |
| Variety characteristics |   |   |   |
| Early vigour | low | | high |
| Earliness of flowering | late | | early |
| Earliness of maturity | late | | early |
| Plant height | tall | | short |
| Lodging resistance | low | | high |
Ease of management
Sunder is relatively short, with vigorous early growth, a long flowering period and medium maturity date.
Sunder is a slightly shorter plant-type than other InVigor spring hybrids, and has strong scores for stem stiffness and lodging resistance. It flowers early and benefits from medium maturity allowing the full development of its high oil content before a
reasonably timed harvest.
Red = Low: 1–4 Orange = Medium: 5–6 Green =  High 7–9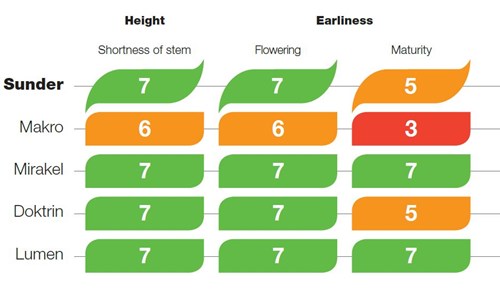 Higher scores reflect that the variety shows the characteristic to a higher degree. Data extracted from AHDB DL 2018/19
Performance and income
Sunder has exceptional oil content which will deliver a significant oil bonus.

Data extracted from AHDB DL 2018/19. * Based on DL gross output and a grain price of £300.50/t.
Sunder is available exclusively from United Oilseeds
Where to buy our seed
Below you will find where Sunder is available to purchase