InV1035 product overview
| | | |
| --- | --- | --- |
| Yield components |   |   |
| Gross output | 110% | Very high |
| Seed yield | 110% | Very high |
| Oil % | 45.6% | Very high |
| Glucosinolate content | 16.4μmol | Medium |
| | |
| --- | --- |
| Agronomy |   |
| Regional suitability | National |
| Soil types | No differences known |
| Sowing date | Mid-late (mid-August onwards) |
| Sowing method | No differences known |
| Harvest method | Dessication or swathing |
| | | | |
| --- | --- | --- | --- |
| Variety characteristics |   |   |   |
| Early vigour | low | | high |
| Winter hardiness | low | | high |
| Flowering | late | | early |
| Maturity | late | | early |
| Plant height | tall | | short |
| Lodging resistance |  low |   | high |
| | | | |
| --- | --- | --- | --- |
| Disease resistance |   |   |   |
| Phoma stem canker | low | | high |
| Light leaf spot | low | | high |
| Response to fungicides | low | | high |
Agronomic data extracted from NL summary 2015/16. Yield and gross output data represented as a % of trial mean in 11 replicated trianls in 2015/16 and 2016/17.
Establishment
Getting your crop off to the best start is the first step to maximising yield, and critical in the absence of an insecticidal seed dressing.
The excellent early vigorous root and shoot growth of InV1035 is complimented by the benefits of Take Off® ST in enhancing emergence and rooting and will be a good fit for growers looking to mitigate risks in establishment. InV1035 is versatile in its sowing date, suiting both the normal and later sowing windows. It excels in challenging establishment conditions, such as those experienced in autumn 2016.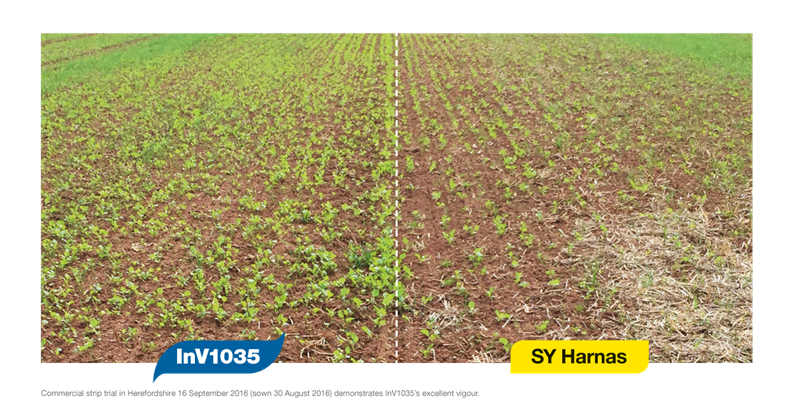 Ease of management
InV1035 has a strong agronomic profile, with excellent lodging and stem stiffness, class-leading Phoma stem canker resistance and a high level of resistance to LLS. InV1035 also appears to show a degree of tolerance to Verticillium wilt (trials conducted by AICC and Agrii).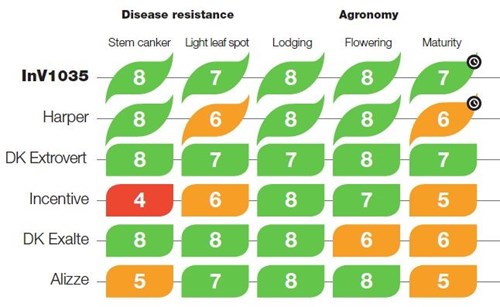 Higher scores reflect that the variety shows the characteristic to a higher degree. Data extracted from AHDB RL 2018/19 (Alizze) and 2017/18 (Harper & Incentive), InV1035 from NL summary 2015/16, DK Extrovert & DK Exalte from www.dekalb.co.uk
Pod shatter tolerance

InV1035 is early to mature and shows pod shatter tolerance at a similar level to the best Dekalb hybrids. Together these features will give the grower confidence in a secure yield at harvest time.

ADAS assessment at Bayer trial sites harvest 2017. Mean of 6 sites (Callow/Selby/Thorney/Farringdon/Lincoln/Coldstream). Graph shows the percentage of pods intact after a period of mechanical shaking
Performance and income
InV1035 has shown consistently good performance in gross output in both the Bayer trials network and independent trials.
It had the highest gross output of hybrids tested in NIABTAG network trials in 2017. It also has a high untreated yield, which reflects its robust disease resistance, giving an element of flexibility to spray timings and helping to manage risk on-farm.

Data from NIABTAG network trials: mean of 5 replicated trials (trial mean gross output 5.36 t/ha)
Where to buy
InV1035 is available exclusively through Agrii.

Where to buy our seed
Below you will find where InVigor® 1035 is available to purchase