Document downloads
View all the facts and statistics for InVigor 1020, and see how its performance compares to other varieties in the same class
| | | |
| --- | --- | --- |
| Yield components |   |   |
| Gross output | 102% | High |
| Seed yield | 102% | High |
| Oil % | 46.5% | Very High |
| Glucosinolate content | 11.9μmol | Low |
| | |
| --- | --- |
| Agronomy |   |
| Regional suitability | National |
| Soil types | No differences known |
| Sowing date | Mid-late (strong late establishment) |
| Sowing method | No differences known |
| Harvest method | Desiccation or swathing |
| | | | |
| --- | --- | --- | --- |
| Variety characteristics |   |   |   |
| Autumn vigour | low | | high |
| Winter hardiness | low | | high |
| Flowering | late | | early |
| Maturity | late | | early |
| Plant height | late | | short |
| Lodging resistance |  low |   | high |
| | | | |
| --- | --- | --- | --- |
| Disease resistance |   |   |   |
| Phoma stem canker | late | | short |
| Light leaf spot | late | | short |
| Response to fungicides | late | | short |
InV1020 data from NL 2 summary 2014/15
Establishment
InV1020 shows strong early and vigorous autumn growth; a desirable attribute for growers looking to mitigate risks in establishment.
It is suitable for sowing from mid-August to late September. Establishment will depend on conditions at planting but InV1020 is able to have its boundaries pushed a bit e.g. later drilling or harsher conditions. 

Bayer small plot trial, Cambridgeshire 19 Oct 2016 (sown 31 August 2016)
Ease of management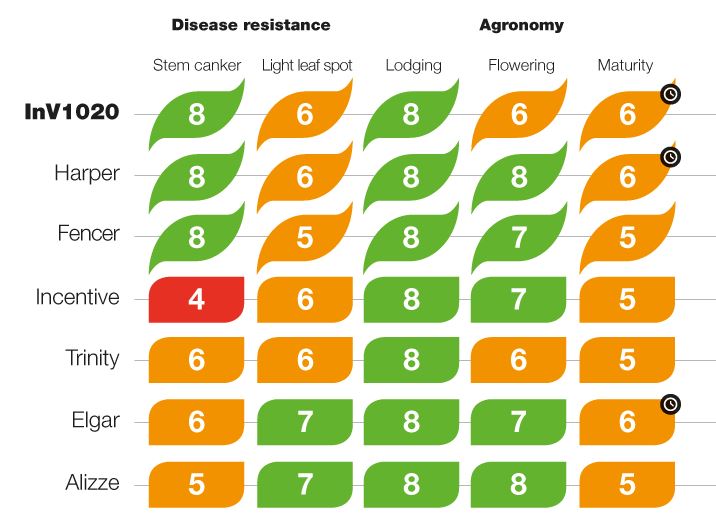 Higher scores reflect that the variety shows the characteristic to a higher degree. Data extracted from AHDB RL 2017/18 (E/W). InV1020 from NL summary 2014/15.
InV1020 is suitable for all regions but tends to give a slightly higher gross output in the E/W.
Its autumn and spring vigour is similar to Fencer, with equivalent excellent lodging resistance and medium-early maturity. Phoma stem canker resistance is based on a combination of single and multigene resistance, which together with a good level of resistance to LLS will give good genetic backup to the fungicide programme.
Performance and income
InV1020 has shown consistently good performance in trials.
With oil content which is amongst the best available, the potential oil bonus per hectare is high and the combined income from seed yield and oil compares favourably to competitors. This, together with its positive agronomic package and autumn vigour makes it an attractive option for growers wishing to maximise output.
Where to buy our seed
Below you will find where InVigor® 1020 is available to purchase