Document downloads
View all the facts and statistics for InVigor 1010, and see how its performance compares to other varieties in the same class
InV1010 product overview
| | | |
| --- | --- | --- |
| Yield components |   |   |
| Gross output | 108% | Very high |
| Seed yield | 109% | Very high |
| Oil % | 44.6% | High |
| | |
| --- | --- |
| Agronomy |   |
| Regional suitability | National |
| Soil types | No differences known |
| Sowing date | Early Aug - early Sept |
| Sowing method | No differences known |
| Harvest method | Dessication or swathing |
| | | | |
| --- | --- | --- | --- |
| Variety characteristics |   |   |   |
| Autumn vigour | low | | high |
| Winter hardiness | low | | high |
| Flowering | late | | early |
| Maturity | late | | early |
| Plant height | tall | | short |
| Lodging resistance |  low |   | high |
| | | | |
| --- | --- | --- | --- |
| Disease resistance |   |   |   |
| Phoma stem canker | low | | high |
| Light leaf spot | low | | high |
| Response to fungicides | low | | high |
Data from Bayer trials 2015/16. Yield and gross output data represented as a % of trial mean in 6 Bayer trials in 2016.
Ease of management
InVigor 1030 (InV1030) shows strong autumn vigour, which will be an attractive feature for growers looking to maximise establishment ahead of plunging temperatures and the threat of slugs.
It has a positive balance of gross output and agronomics, with class-leading Phoma resistance plus a good level of resistance to light leaf spot (LLS) giving good genetic back-up to the fungicide programme. InV1030 is suited to planting in the main drilling window and has medium-early flowering, maturing a similar time to its peers. It is suitable for all regions but a very good fit for the north, where it is particularly competitive on gross output.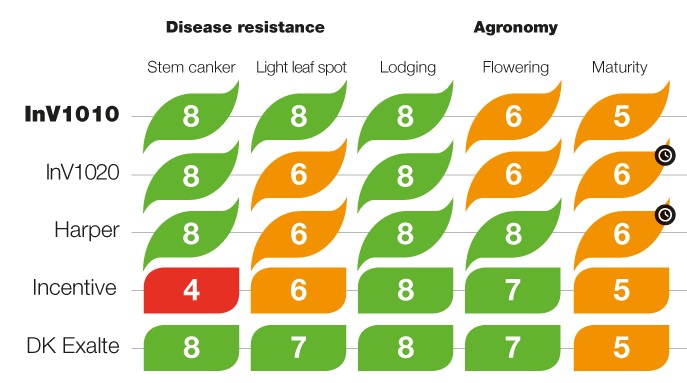 Higher scores reflect that the variety shows the characteristic to a higher degree. InV1010 scores calculated from Bayer internal trials & French official trials and cross-referenced to known varieties. In France, InV1010 is rated as "TPS" for Phoma, similar to Fencer (rated as 8 in the UK). InV1020 data from NL summary 2014/15. Incentive & Harper data extracted from AHDB RL 2017/18. DK Exalte data extracted from AHDB Table 16 (varieties grown in trials but not added to RL).
InV1010 has medium maturity, allowing the full development of its yield potential before a reasonably-timed harvest.
It shows pod shatter tolerance at a similar level to the best Dekalb hybrids. Together these features will give the grower confidence in a secure yield at harvest time.

Data from Bayer internal trial harvest 2016.
Performance and income
InV1010 has high untreated yields, giving an element of insurance to the grower where fungicide applications are missed, or timings are compromised by weather or workload.
Its competitive gross output is made up of a very high seed yield and moderately high oil content.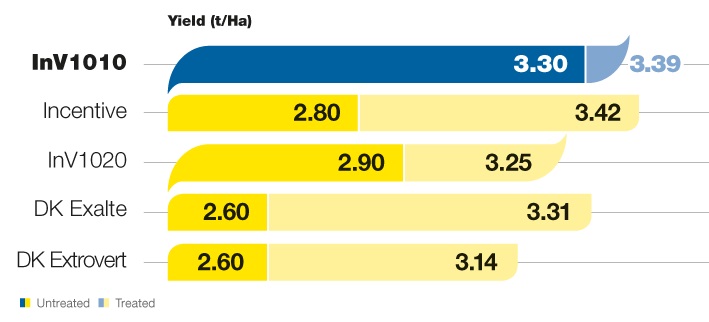 Data a mean of 6 Bayer internal trials in 2016.
Where to buy our seed
Below you will find where InVigor® 1020 is available to purchase