InV1010 product overview
| | | |
| --- | --- | --- |
| Yield components |   |   |
| Gross output | 107% | Very high |
| Seed yield | 108% | Very high |
| Oil % | 44.8% | Medium |
| | |
| --- | --- |
| Agronomy |   |
| Regional suitability | National |
| Soil types | No differences known |
| Sowing date | Early Aug - early Sept |
| Sowing method | No differences known |
| Harvest method | Dessication or swathing |
| | | | |
| --- | --- | --- | --- |
| Variety characteristics |   |   |   |
| Autumn vigour | low | | high |
| Winter hardiness | low | | high |
| Flowering | late | | early |
| Maturity | late | | early |
| Plant height | tall | | short |
| Lodging resistance |  low |   | high |
| | | | |
| --- | --- | --- | --- |
| Disease resistance |   |   |   |
| Phoma stem canker | low | | high |
| Light leaf spot | low | | high |
| Response to fungicides | low | | high |
Data from Bayer trials 2015-17. Yield and gross output data represented as a % of trial mean in 11 Bayer trials in 2015/16 and 2016/17.
Ease of management
InV1010 develops in a similar way to Harper in the autumn and will suit the traditional sowing window for winter oilseed rape.
It has a prostrate growth habit in the autumn, medium flowering and medium maturity. It is quite tall, so will require management with a PGR but has very good lodging resistance. Its high untreated yield is underpinned by the best resistance to LLS in the InVigor portfolio. Because Phoma resistance is based on several minor genes working in the background, rather than major gene resistance, it would be expected to see Phoma leaf spotting in the autumn. It is therefore advisable to monitor the crop and treat with an effective fungicide if thresholds are reached.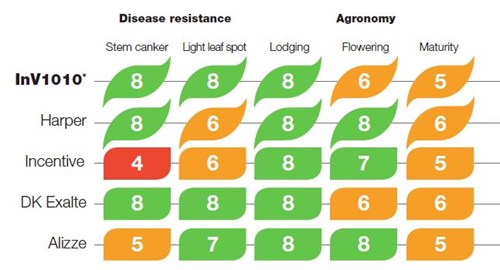 Higher scores reflect that the variety shows the characteristic to a higher degree. *InV1010 Phoma scores calculated from Bayer internal trials & French official trials and cross-referenced to known varieties. InV1010 is classified as "TPS" in France, similar to Fencer (rated as 8 in the UK). Data extracted from AHDB RL 2018/19 (Alizze) and 2017/18 (Harper & Incentive), DK Extrovert & DK Exalte from www.dekalb.co.uk
InV1010 has medium maturity, allowing the full development of its yield potential before a reasonably-timed harvest.
It shows pod shatter tolerance at a similar level to the best Dekalb hybrids. Together these features will give the grower confidence in a secure yield at harvest time.

ADAS assessment at Bayer trial sites harvest 2017. Mean of 6 sites (Callow/Selby/Thorney/Farringdon/Lincoln/Coldstream)
Performance and income
InV1010 has a competitive gross output, which is made up of a very high seed yield and moderate oil content.
It has high untreated yields, giving an element of insurance to the grower where fungicide applications are missed, or timings are compromised by weather or workload. 

Data from Bayer internal trials network. Gross output represented as a % relative to trial mean (3.9t/h). REML analysis of 11 replicated trials harvest 2017 & 2017 (LSD = 0.323)
Where to buy our seed
Below you will find where InVigor® 1020 is available to purchase