| | | |
| --- | --- | --- |
| Harper yield components |   |   |
| Gross output | 101% | High |
| Seed yield | 102% | High |
| Oil % | 45.3% | High |
| Glucosinolate content | 10.0μmol | Low |
| | |
| --- | --- |
| Agronomy |   |
| Regional suitability | National |
| Soil types | No differences known |
| Sowing date | Early Aug - early Sept |
| Sowing method | No differences known |
| Harvest method | Desiccation or swathing |
| | | | |
| --- | --- | --- | --- |
|  Variety characteristics |   |   |   |
| Early vigour |  low | | high |
| Winter hardiness |  low |   | high |
| Earliness of flowering | late | | early |
| Earliness of maturity  | late |   | early |
| Plant height | tall |   | short |
| Lodging resistance |  low |   | high |
| | | | |
| --- | --- | --- | --- |
| Disease resistance |   |   |   |
| Phoma/stem canker |  low | | high |
| Light leaf spot |  low | | high |
| Response to fungicides | low |   | high |
Data extracted from AHDB RL 2017/18 (E/W).
Ease of management
Harper has a good combination of Phoma, LLS and lodging resistance plus high oil content. It is one of the earliest maturing hybrids on the 2017/18 RL E/W and offers growers highly consistent yield performance as well as good autumn and spring vigour.
Harper's disease resistance package makes it suitable for all UK regions. Its class-leading Phoma stem canker resistance is based on a combination of single and multigene resistance. Fungicide product choice, doses and timings can therefore be targeted to control Light leaf spot and such treatments will act as a back up to Harper's genetic resistance for Phoma control. Usually a single autumn application will suffice, provided the Phoma leaf spot level stays below threshold.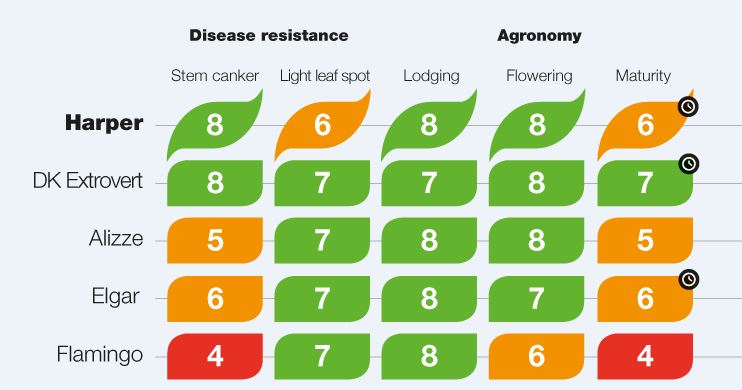 Higher scores reflect that the variety shows the characteristic to a higher degree. Data extracted from AHDB RL 2017/18 (E/W). DK Extrovert from www.dekalb.co.uk.
Performance and income
Harper is valued by growers for delivering consistent on-farm performance year after year.
Whilst it no longer tops the RL in gross output terms, Harper has demonstrated highly consistent gross output performance in RL trials across the past 4, very different years driven by its strong agronomic package and can therefore be described as a low risk option. Whilst some of the newer, high yielding varieties have great yield potential, analysis of yield performance from year to year shows huge variation, making them a high risk option for growers.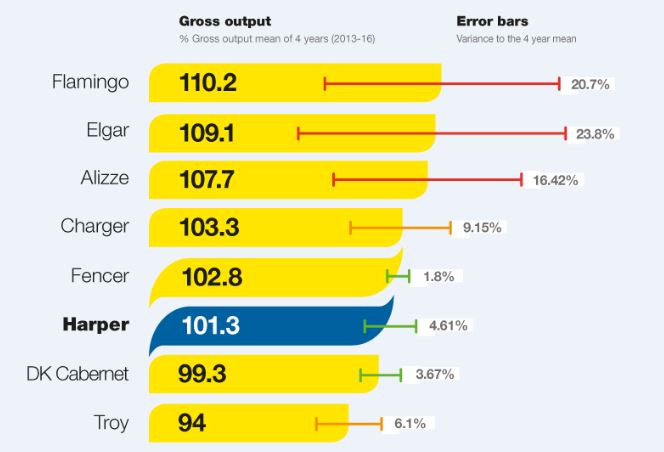 Data extracted from AHDB RL 2017/18 (E/W)
Where to buy our seed
Below you will find where Harper is available to purchase