Fencer product overview
| | | |
| --- | --- | --- |
| Yield components |   |   |
| Gross output | 103% | High |
| Seed yield | 102% | High |
| Oil % | 46.2% | Very high |
| Glucosinolate content | 9.0μmol | Very low |
| | |
| --- | --- |
| Agronomy |   |
| Regional suitability | E&W |
| Soil types | No differences known |
| Sowing date | Early Aug - early Sept |
| Sowing method | No differences known |
| Harvest method | Dessication or swathing |
| | | | |
| --- | --- | --- | --- |
| Variety characteristics |   |   |   |
| Autumn vigour | low | | high |
| Winter hardiness | low | | high |
| Flowering | late | | early |
| Maturity | late | | early |
| Plant height | tall | | short |
| Lodging resistance |  low | | high |
| | | | |
| --- | --- | --- | --- |
| Variety characteristics |   |   |   |
| Phoma stem canker | low | | high |
| Light leaf spot | low | | high |
| Response to fungicides | low | | high |
Data extracted from AHDB RL 2017/18 (E/W).
Establishment
Hybrids are known to be valued for their autumn vigour but Fencer is especially vigorous in late drilling situations, and can be sown from mid-August to mid – late September.
This gives you flexibility to delay drilling if soil and/or weather conditions are not correct. Providing growing conditions are favourable and a suitable seed bed can be established, hybrid WOSR can still deliver a viable and profitable crop when drilled in September – if the right variety is chosen. Fencer drilled in mid-late September is likely to outperform varieties drilled in unfavourable conditions in August. However, if growers are considering late drilling WOSR it is vital to look beyond the RL data in decision-making. Because the AHDB drill all varieties for its field trials in mid – late August, the data does not always demonstrate the capability of late drilled specialists, which come into their own in these conditions.

Bayer small plot trial, Herefordshire comparing speed of establishment in plots of Fencer and Elgar sown on 5 September 2016.
Ease of management
Fencer is a vigorous hybrid, with excellent Phoma resistance, standing power and very high oil content.
Fencer's class-leading Phoma stem canker resistance is based on a combination of single and multi-gene resistance. Fungicide product choice, doses and timings should be targeted to control LLS and such treatments will act as a back up to Fencer's genetic resistance for Phoma control. Usually a single autumn application will suffice, provided the Phoma leaf spot level stays below threshold.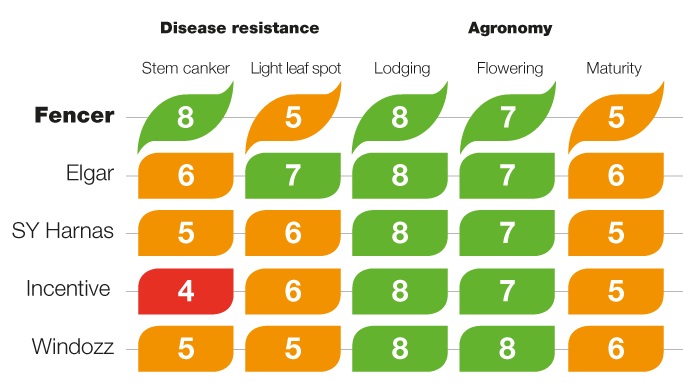 Higher scores reflect that the variety shows the characteristic to a higher degree. Data extracted from AHDB RL 2017/18 (E/W).
Where to buy our seed
Below you will find where Fencer is available to purchase