| | | |
| --- | --- | --- |
| Yield components |   |   |
| Gross output | 102% | Very high |
| Seed yield | 101% | Very high |
| Oil % | 45.5% | Very High |
| Glucosinolate content | 13.8μmol | Medium |
| | |
| --- | --- |
| Agronomy |   |
| Regional suitability | National |
| Soil types | No differences known |
| Sowing date | Mid-March - mid-April |
| Sowing method | No differences known |
| Harvest method | Desiccation or swathing |
| | | | |
| --- | --- | --- | --- |
| Variety characteristics |   |   |   |
| Early vigour | low | | high |
| Earliness of flowering | early | | late |
| Earliness of maturity | early | | late |
| Plant height | tall | | short |
| Lodging resistance | low | | high |
Ease of management
Builder has a vigorous growth habit which aids rapid establishment and resilience to pest attack.
It is medium tall, combining a higher biomass characteristic than the older hybrids which helps to build its high yields. It flowers early and benefits from medium-early maturity allowing the full development of its high oil content before a reasonably timed harvest.
It has shown consistent performance over several years of testing in official trials. 
Red = Low: 1–4 Orange = Medium: 5–6 Green =  High 7–9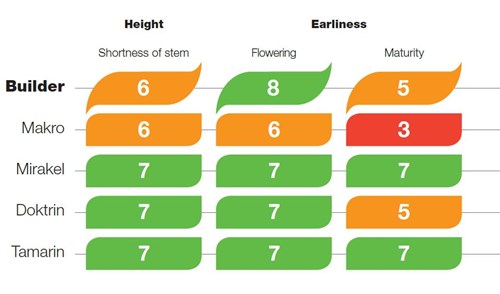 Higher scores reflect that the variety shows the characteristic to a higher degree. Data extracted from AHDB DL 2018/19
Performance and income
Builder delivers very high returns through a combination of high seed yield plus exceptional oil bonus.

Where to buy our seed
Below you will find where Builder is available to purchase