Rodilon
Rodilon is the new single feed solution for rodent problems. Its active substance is difethialone, which is the first new active in the UK for over 20 years. For indoor use only, Rodilon provides you with a choice of four convenient baiting options. It has no known resistance in rats or mice.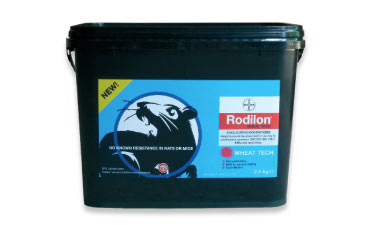 Product Overview
(Active substances: Difethialone)
Why Rodilon?
Rodilon is highly palatable and effective. Because it comes in four different baiting options, it provides a solution for most indoor situations where rats and mice are a problem. Rodilon's pioneering new active substance, difethialone, works like no other anticoagulant because of its molecular configuration. When genetic mutation occurs, Rodilon is still able to bind to the rodent's liver enzyme, unlike other well known anticoagulants.
Key Features and Benefits
Pioneering new active substance
No known resistance in rats and mice
Comes in four convenient baiting options: Wheat Tech, Trio, Blocks and Soft Blocks
Different baiting options can be used depending on the environment and target species
Wheat Tech and Trio benefit from 'Turbo Impregnation', which seals the active substance to both the outer husk and the inner core of the bait
Getting the best from Rodilon
It is important to use the best baiting option for the job depending on the environment and the target species. Rodilon can be used indoors in agricultural, domestic, commercial, food factories, public services, sewers, municipal and industrial buildings. Rodilon controls Norway Rats (Rattus norvegicus), Black Rats (Rattus rattus) and House Mice (Mus musculus), including all known resistant strains to others anticoagulants.
Further information on the application of Rodilon is available here
Important things to remember
Always follow the guidance on application
Always apply Rodilon where it is inaccessible to children, animals and birds and secure the bait in tamper resistant bait stations
If possible eliminate alternative food sources  
Further information is available at www.pestcontrol-expert.com