---
You can also find labels, MSDS, tank-mixes and other key documents for all our products using our document search
Document store
Product Overview
(Active substances: thiacloprid)
Biscaya is a systemic insecticide that provides you with control of pollen beetles in oilseed rape and mustard, aphids in broccoli/calabrese, brussels sprouts, cabbage, cauliflower, carrots, parsnips, peas, oilseed rape and potatoes and a reduction of damage by orange wheat blossom midge in wheat.
Why Biscaya?
Biscaya is a fast acting aphicide and has a label recommendation for virus reduction in potatoes. It is particularly useful against aphids, midge and pollen beetles, even against strains that are resistant to some insecticide mode of actions; Biscaya will control the vector of Turnip Yellow Virus in oilseed rape.
Main advantages
It's possible to treat the whole field as there is no LERAP. Biscaya is the only product that can be used to tackle wheat blossom midge across the whole field.
Controls all important aphids, including resistant strains such as MACE and super kdr

Myzus Persicae (peach potato aphid)

Effective against pyrethroid resistant pollen beetle in oilseed rape
New reduced viscosity oil dispersion (OD) formulation with high adjuvant levels to ensure good efficacy with quick knockdown.
No risk to bees when applied according to the label and can be applied to flowering crops
Can be mixed with prothioconazole-containing fungicides when used on flowering crops of oilseed rape
Excellent Integrated Pest Management (IPM) profile
An even wider range of crops can be treated thanks to a number of label approvals in addition to the label crops and pests
WOSR: Yield results from autumn applications of Biscaya (BCS Replicated Trials)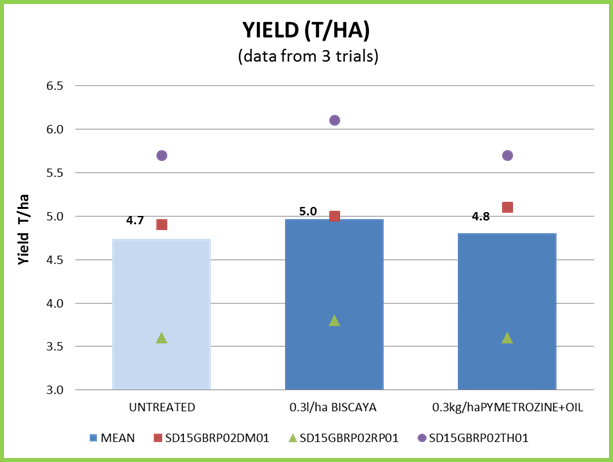 Application timing was onset of Myzus migration:
SD15GBRP02DM01: 5th Oct 2014
SD15GBRP02RP01: 2nd Oct 2014
SD15GBRP02TH01: 3rd Oct 2014
TuYV infection in the fields was: 83%, 80% and 10%
CSFB was also present in the trial area
Biscaya average yield:
0.3 T/Ha > untreated
0.2 T/Ha > Plenum
Getting the best from Biscaya
Apply Biscaya as pests approach thresholds.
Oilseed Rape: Control of Pollen Beetle - Control beetles as soon as threshold is reached during green to yellow bud stage.
Oilseed Rape: Control of Myzus persicae the aphid vector of Turnip yellow virus (TuYV) – Monitor AHDB Aphid bulletins, inspect crops when migration begins and spray when Mysus persicae first found in crops.
Click here for more information on aphid control in OSR
Potatoes: Best results are achieved by using it as the first and third sprays in programmes to target colonising (seed and ware) and on seed crops non-colonising aphids. In seed potato crops increasing emphasis is being placed on controlling non-colonising aphids, in this case alternate those treatments with Biscaya. Where Myzus persicae and Macrosiphum euphorbiae are migrating you should plan to alternate Biscaya with Plenum WG (pymetrozine) or Teppeki (flonicamid).
Wheat: Pheromone traps provide a helpful early warning. Finding 30 or more male midges per day in traps indicates a risk to crops in the following week, when females can be expected to be laying eggs. This is the cue to start checking crops at dusk for female midges, and to assess whether or not treatment is needed.
HGCA advised treatment thresholds are one midge per three ears in susceptible feed crops, and one midge per six ears in milling and seed crops.
Brassicas: In very difficult to cover brassica crops, such as Brussels sprouts, an adjuvant can improve the efficacy of Biscaya in the control of Brevicoryne brassicae. Applications are most effective before colonies form, and levels of control may be reduced where high, established populations are present. In such circumstances a follow-up aphicide application may be required.
Carrots and Parsnips: Apply as aphids start to build up in the crop, usually during May. Crops are most susceptible to damage during early growth and are vulnerable from the cotyledon stage.
Peas: For pea aphid control, apply as aphids start to build up in the crop. Application at early flowering (according to local warnings) gives reduction in damage from pea midge
Important things to remember
Invert the product and shake before mixing in the spray tank.
Half fill the spray tank with clean water, add the required amount of Biscaya with the agitation system in operation, and fill to the required level
For induction bowls, half fill the bowl with water before adding Biscaya
Wash out the container, add the washings to the spray tank and top up with clean water
Total reliance on one pesticide will hasten resistance. Pesticides of different chemical types, and alternative control methods should be included in a planned programme
Do not use in consecutive sprays
Always apply Biscaya at the full recommended dose and in sufficient water volume
Do not apply to wet foliage or if rainfall or irrigation is imminent
Avoid drift to areas outside those being sprayed
Biscaya as part of a programme
Biscaya should always be used in conjunction with other insecticides of a different mode of action and never applied as consecutive treatments. This includes consideration of sequences involving seed or soil treatments followed by foliar sprays. Alternating insecticides with different modes of action is a recognised anti-resistance strategy.
Product Summary
| | |
| --- | --- |
| Active substances | 240g/L thiacloprid |
| Formulation | Liquid - an oil dispersion (O-TEQ) |
| Pack size | 5 litre |
| Water volume | 200 - 400 L/ha |
| MAPP | 15014 |
| LERAP | None |