Betanal maxxPro
Our patented Double-A technology optimises both the spectrum of weeds controlled and the contact effectiveness of Betanal maxxPro to ensure that it gives you fast and robust weed control in sugar beet that consistently performs year on year. The active substances - phenmedipham, desmedipham and ethofumesate - in combination with lenacil, provide outstanding crop safety and maximum flexibility.
---
Document Downloads
You can also find labels, MSDS, tank-mixes and other key documents for all our products using our document search
Document store
Product Overview
(Active substances: phenmedipham, desmedipham, ethofumesate and lenacil*)
*principal active substances are activated by a micro amount of lenacil
Consistent weed control accross a range of species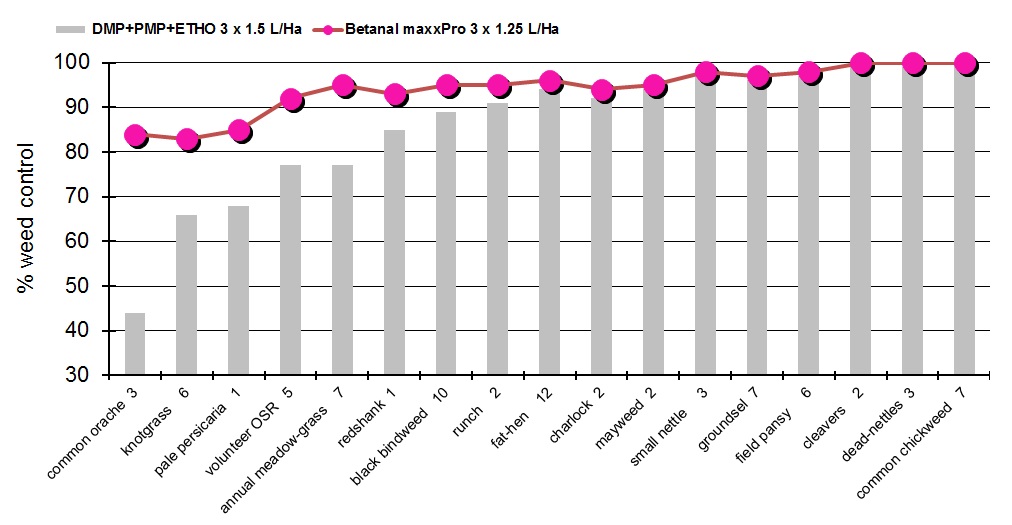 Why Betanal maxxPro?
High levels of weed control are essential if you are to achieve the yields needed to produce profitable sugar beet crops. Betanal maxxPro's advanced formulation optimises spreading and coverage and enhances spray solution quality. It ensures even distribution and fast and reliable uptake of the active substances. The high quality adjuvant system means that any additional adjuvant is normally unnecessary.
Main advantages
Enhanced and highly consistent control of a broad weed spectrum
Optimised spreading and coverage for class-leading weed control
Fast and reliable uptake for rapid action
Wide window of application over a range of weed growth stages
Fast mixing times* and flexible use in a range of water volumes
Top class yields and return on investment
Proven safety on sugar beet
Lowest ETHO in the 3-way market for max flexibility in black-grass programmes
Getting the best from Betanal maxxPro
Betanal maxxPro brings the ultimate flexibilty to target optimal timings and spraying hours. Used in a low-volume overall spray programme, well-timed applications of Betanal maxxPro from the cotyledon stage of the crop will control annual broad-leaved weeds up to, and including, the fully expanded cotyledon stage.  Apply the first spray at 1.25 L/ha when weeds are at cotyledon stage and increase to 1.5 L/ha for second and subsequent sprays to the crop at or beyond two true leaf stage.
Always apply as a FINE quality spray in a water volume of 80 – 200 L/ha.
Important things to remember
When tank-mixing always fully disperse WG and WP products before adding Betanal maxxPro
Certain tank-mixes may require additional adjuvant oil for improved weed control in difficult circumstances or when recommended for partner products
Do not use adjuvant oil during periods of rapid growth or when crops are under stress
Application to crops suffering from stress may lead to a check in growth from which the crop may not recover or, in extreme cases, lead to crop loss
Betanal maxxPro as part of a programme
Betanal maxxPro may be used on crops treated with approved seed treatments containing clothianidin (Poncho Beta (clothianidin and beta-cyfluthrin)), thiamethoxam or imidacloprid. It can also be used following pre-emergence treatments and in sequence with grass weedkillers.
*BBRO herbicide systems trials presented by Dr. Pat Turnbull at the 2013 BBRO Winter Conference.
Contract trials in 2016 show superior weed control
Scores from 3 contract trials in 2016 using a three-spray herbicides programme