Waiting until March could rob you of two tonnes per hectare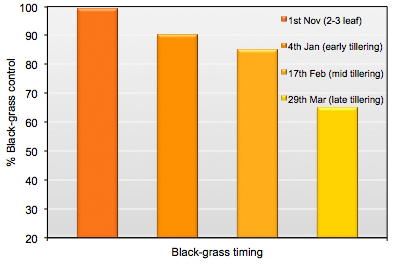 Don't wait until March to treat your black-grass with Atlantis WG. The longer you wait, the bigger the black-grass, which puts more pressure on the herbicide, and increases the yield loss from crop competition. Many growers wait for traditional spring conditions before using Atlantis WG, but earlier treatment - while there is less competition -  will give better control and better yields.
In our Chishill weed screen last year treatment in the middle of February gave around 85% control of black-grass, but this fell to only 65% by the end of March. Trials have shown that leaving your treatment until the end of March can result in average losses of 2 tonne/ha worth around £290.
Treating early will also help where enhanced metabolic resistance (EMR) is a concern, as EMR plants are easier to control when at early growth stages.
These dramatic pictures show just what a difference early treatment makes, not only to black-grass but to bromes and rye-grass too.