Leeks
Using Rudis in a programme with other preventative fungicides.


Example programme
No disease at T1: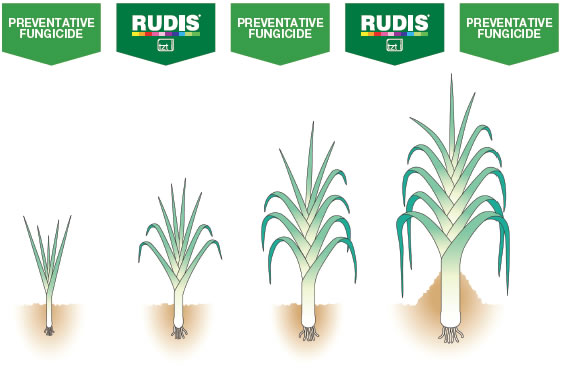 Application:
| | |
| --- | --- |
|   | Rudis |
| Rate of use: | 0.4 L/ha |
| Max number of doses per crop: | 3 |
Apply a preventative fungicide as the first application before disease establishes itself in the crop.  About 14 days later follow with a Rudis application.  Depending on the situation, you may need to use a block of two sprays at an interval of about 21 days.
Leek rust control:
Whether for curative reasons or if the crop is very waxy, mixing Rudis with an approved sticker/wetter adjuvant may enhance activity.
White tip:
To control, mix Rudis with a specific curative fungicide.
Note on Nativo 75WG:
Growers with Nativo 75WG bearing the old MAPP number 13057 can still use the product on leeks up to 30 June 2016, but product with the new MAPP number 16867 is no longer authorised for leeks. Work is ongoing to have this crop re-instated. Always check the CRD website for the latest product information.