Flexible application
Whether you have 60-day bearers or ever-bearers, Luna Sensation makes things easy. You'll control powdery mildew and Botrytis (moderate control), and reduce storage rots with flexible application timings as part of an integrated fungicide programme.
How to apply
Use as part of a protectant spray programme for best control and yield benefit.
Apply from first flower open (BBCH 60) to first harvest (BBCH 87), with a 1-day PHI.
Maximum of two applications of 0.8 L/ha per cropping year in 300-1000 L water/ha.
Use medium spray quality to ensure crop penetration and coverage.
Respect a 14-metre non-reducible aquatic buffer zone.
Do not apply with adjuvants (e.g. penetrants or spreaders) or phosphonates/phosphites*.
Treating specific diseases
Powdery mildew
Apply as part of a protectant programme, starting no later than at first sign of disease.
Botrytis
Apply preventatively with good coverage on flowers and fruits before spores germinate.
Fruit rots
Apply as part of a protectant programme from first open flower until harvest.
*Use of penetrants (oils) and phosphonates can enhance uptake of active substances, which can, in some
instances, lead to phytotoxicity symptoms.
Follow the FRAC guidelines for permitted number of applications of SDHI and QoI within a spray programme.

Suggested programme: 60-day bearers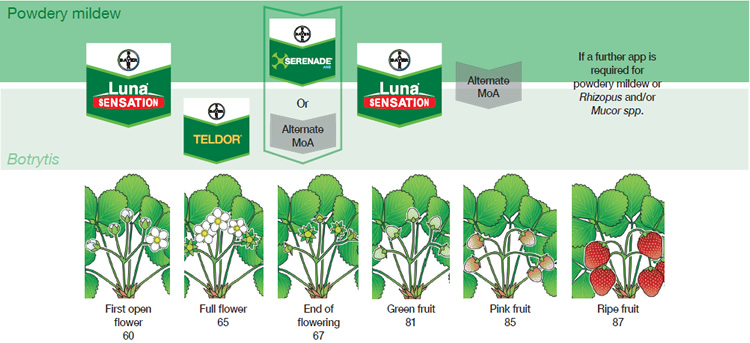 Suggested programme: ever-bearers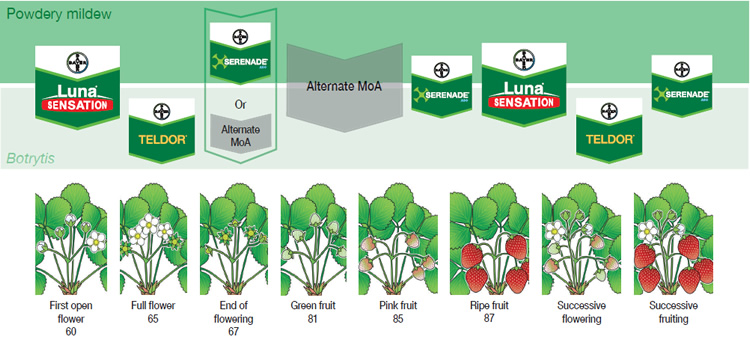 Bayer programmes with Luna Sensation are effective from the start and throughout your rotation. However, Ideal
application timings depend on disease levels, crop growth stage and other agronomic activities such as harvest timing.
Discuss with your advisor to determine the best programme for your crop