Complementary MoAs
Fluopyram and trifloxystrobin offer complementary activity with different MoAs (modes of action) to provide highly targeted disease control. This ensures lasting overall protection and safeguards fruit and leaves.
How fluopyram and trifloxystrobin work together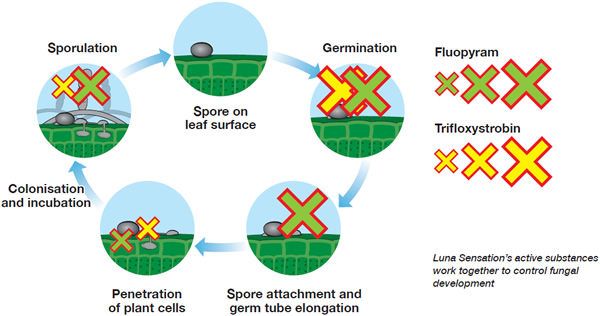 New fluopyram: the next-generation SDHI
Fluopyram is a unique member of a new set of SDHIs. It's in a different chemical group from all others, and so has different properties with a molecular shape that gives greater flexibility leading to a different spectrum of activity and resistance profile from all other SDHIs.
Spectrum of activity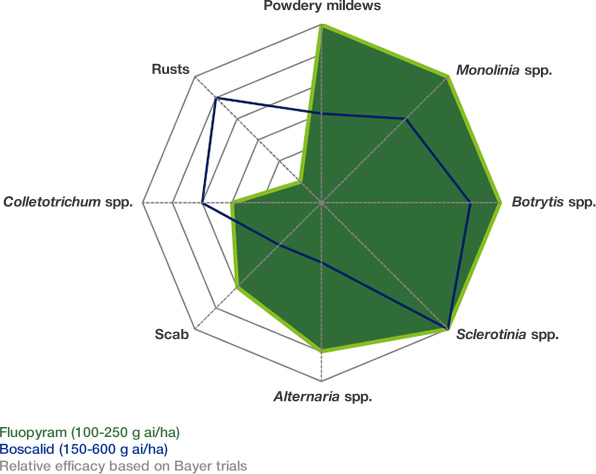 Protects fruit and leaves: most of active substance is on the surface
Continuous penetration: small amounts of fungicide continue to penetrate the leaves
Translaminar efficacy: protects non-treated surfaces
Acropetal (upward) systemicity: redistributes the active into leaves via the xylem
Protects leaves against powdery mildew
Protects leaves against powdery mildew
Applied before leaf infection, fluopyram inhibits germination and germ tube elongation. Applied after infection, it inhibits fungus growth on the leaf surface.
(Erisyphe necator in grapes)

Protects petals against Botrytis 
A protective application of fluopyram prevents spore germination and development and elongation of the
germ tube.
(Botrytis cinerea in strawberries)

Trifloxystrobin: a new strobilurin for soft fruit
New to soft fruit, trifloxystrobin uses strong contact and translaminar action to deliver robust, reliable
control, leading to higher yields.
Spectrum of activity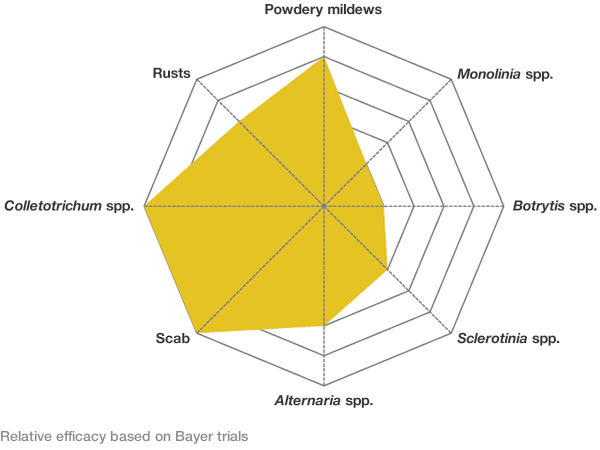 Lasting protection of fruit and leaves: high affinity to plant surface and absorption by waxy layers
Continuous penetration: small amounts of fungicide continue to penetrate the leaves
Translaminar efficacy and vapour re-distribution: protects non-treated surfaces
Not systemic: therefore not transported in the vascular system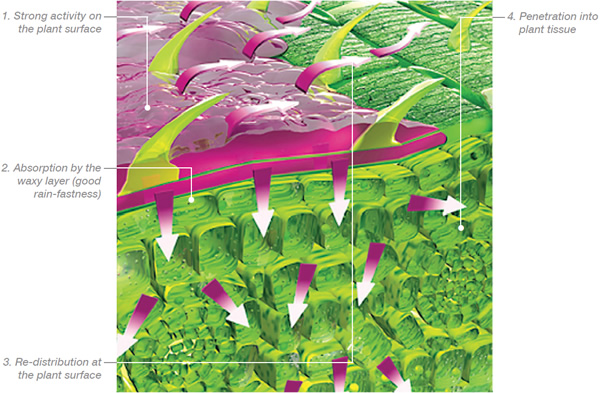 Save
Save
Save