---
Document Downloads
You can also find labels, MSDS, tank-mixes and other key documents for all our products using our document search
Document store
Product Overview
(Active substances: cyproconazole  + trifloxystrobin)
Why Escolta?
It has been demonstrated throughout 8 years of independent trials that Escolta gives you unbeatable return on your investment through increased yield. In a series of trials by Broom's Barn, British Sugar and Bayer CropScience, T1 sprays achieved an average 7.7 T/Ha yield increase over untreated sugar beet.  In two-spray programmes, T2 sprays achieved an additional 4.8 T/Ha over the untreated control for late lifted sugar beet.  This was a 4.2 T/Ha increase in yield over its nearest competitor.
Unbeatable return on investment
Results from 17 trials and 22 data points 2007-2012. Yield expressed as adjusted to 16% sugar. 2 sprays of either Escolta (0.35L/Ha) or difenoconazole + fenpropidin (1.0L/Ha). Beet price at £24/T.
Main advantages
Proven yield-boosting performance across 7 years of beet crops
Specially formulated against the four major foliar diseases: powdery mildew, rust, Ramularia and Cercospora leaf spot
Combined physiological effects of strobilurin and triazole components give the best leaf-greening response
Drought tolerance benefit of trifloxystrobin maintains yields under water stress
Co-formulation provides built-in resistance management
Low dose rate reduces packaging
Getting the best from Escolta
To get the best from Escolta, apply a T1 spray as disease enters the crop before it has become established. Apply your T2 spray three to four weeks afterwards and by mid-September, at the latest, to give full protection to crops lifted from the latter half of October onwards, and to maximise leaf-greening.
Important things to remember
Escolta will give a physiological boost to yield, even in situations where disease pressure is very low.
For best results apply Escolta prior to the onset of disease 
Escolta as part of a two-spray programme
T1 sprays are typically applied in late July or early August. Escolta persists for three to four weeks, so a well-timed T1 spray will keep the crop protected right through the cereal harvest and into September.
Assess the need for a T2 spray in late August or early September depending on disease pressure and planned lifting. Escolta's short harvest interval of 21 days provides the flexibility to take advantage of a T2 spray and lift early. In a year where there is significant disease pressure, a T2 spray gives an economic response where October lifting is planning. A healthy crop can continue to gain 3t/ha per week during October.
Where you are lifting beyond October, a T2 spray gives full protection into the winter. In addition to building yield it helps to maintain a healthy canopy and protect roots and crowns from frost damage.
Extra yield benefits from Escolta's two-spray stratgey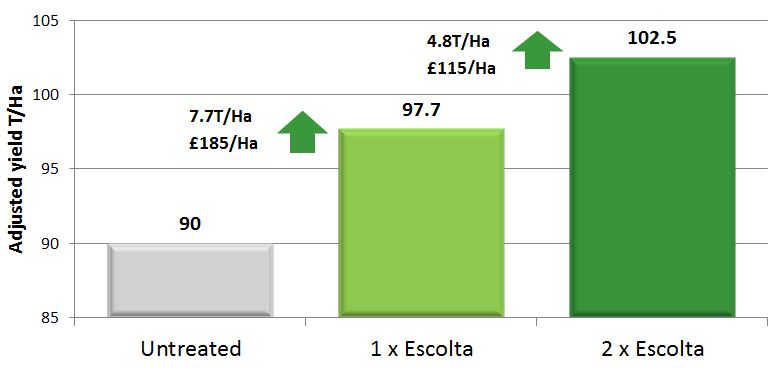 Results from 7 trials and 10 data points 2009-2014, January and February lift dates. Yield expressed as adjusted to 16% sugar. Treatments: either 1 or 2 sprays of Escolta at 0.35L/Ha.