Sclerotinia made an unwelcome appearance again in some areas in 2016. So how do you keep it under control?
There has been a higher incidence of Sclerotinia in 2016
Timing is critical for control as fungicides protectant only
Typically three weeks protection so second spray can be necessary
Proline gives cost-effective control
More oilseed rape crops were affected by Sclerotinia than for many years in 2016, simply because there were more
infection events during the critical flowering period, says Julie Smith, senior research scientist with ADAS.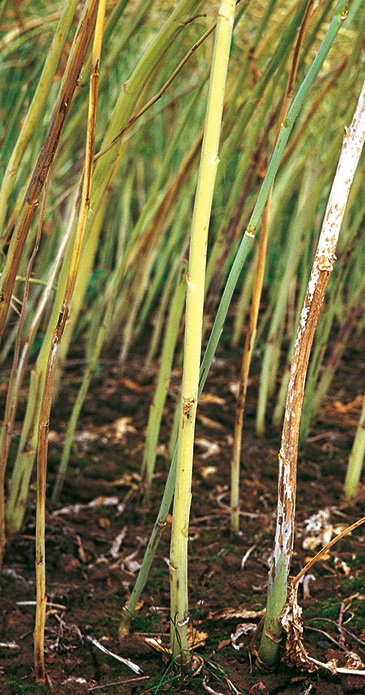 "It wasn't a severe epidemic by any means," she stresses. "But crops grown in the traditional hotspots had higher levels of disease than usual." 
Three factors have to be present simultaneously for infection to occur – airborne disease inoculum, petal stick and the right weather conditions. 
"Regarding the latter, a minimum temperature of 7°C, with relative humidity at 80% or above for at least a day is required."
For this reason, the weather at flowering is the most important factor in determining Sclerotinia risk, as any help that ascospore-laden petals get in sticking to plants as they fall provides an opportunity for infection to occur. 
"If there's light rain, or drizzly weather, at this stage, then it is far more likely to happen," she explains. 
Although very good control of Sclerotinia can be achieved from a single, well-timed spray application, the protectant nature of
the fungicides available makes the timing critical for success, advises Dr Smith.
"It means any fungicide has to be on before the infection event. If it isn't, you won't get the disease control, as they don't
offer eradicant activity."
As a rule of thumb, significant petal fall starts at midflowering, so growers relying on a single spray should aim for an earlymid flowering application – keeping one eye on the weather so that they can be certain of being ahead of any rain or showers, she suggests.
"You get a maximum of three weeks protection from one application. So spray timing is key – we've seen yield differences of as much as 0.8 t/ha just as a result of timing."
However, if the weather risk continues  or flowering is prolonged, a second spray will be necessary, she says. "That extra protection can be very important in a catchy season and there are a number of growers who have adopted a two spray
approach as routine now."
Regarding product choice, she notes that Proline is one of the two top performers against Sclerotinia in AHDB work.
"In a low-moderate risk situation, there's no benefit from applying more than a half dose, but high risk sites under moderate to severe pressure will see a yield benefit from a higher, three-quarters rate application," she adds.
The other consideration with Sclerotinia control is any need for a light leaf spot top up at flowering, points out Dr Smith. "In
some instances, it would be wise to choose a fungicide which offers light leaf spot activity as well as Sclerotinia control."
Tim Nicholson,Commercial Technical Manager with Bayer, highlights Proline's dual role as an effective light leaf spot treatment, as well as being a key Sclerotinia product.
"It means that where Proline is used, any light leaf spot that has survived the earlier spray programme can be mopped up at
the Sclerotinia timing. Where there have been difficulties with autumn spraying, it can be necessary to stop light leaf spot
getting onto the pods."
As far as Sclerotinia control is concerned, he recommends that growers use tools such as the AHDB Sclerotinia risk report to
fine-tune spray timings, as it shows when both Sclerotia germination and ascospore trapping have started at a local level.
"In most instances, the control programme should start with an early to mid-flowering spray of Proline, at 0.46 L/ha," he says.
However, there are years when a mid-flowering start can be appropriate, especially if it's been too cold for Sclerotinia infection or if a growth regulating fungicide such as tebuconazole has been used at the yellow bud stage, he acknowledges.
"That's why the weekly monitoring tools are so useful for hitting the optimum timing." 
A second, follow-up spray will be required if the crop is still flowering three weeks later and the risk remains, continues Mr Nicholson.
"For this application, use 0.32 L/ha of Proline. As we saw last year, the warmer conditions later on in the season mean that
you can get more infection events then, so it's worth maintaining your monitoring effort."
A typical cost of a two spray programme based on Proline is around £35-40/ha, which is lower than competitor products, he notes.
Case study
Patrick Stephenson (independent agronomist)
Where the first spray wasn't timed correctly, there was a reasonable amount of Sclerotinia in the north in 2016, reports independent agronomist Patrick Stephenson. 
However, if the initial application went on to coincide with spore release and early petal fall, it provided enough protection in the majority of situations, he says. 
"You can get up to four weeks activity from a well-timed prothioconazole-based spray," he says. "After that, the decision to go back in will depend on whether flowering is protracted or not and how the season is developing."
The difficulty that most growers have is that they don't know whether it's going to be a bad year for the disease at the onset of spraying, which is why he finds the Sclerotinia monitoring schemes and spore release data so helpful.
The first spray should be timed for early petal fall if spores have been released, suggests Mr Stephenson. "Proline has an
obvious fit here because it covers other diseases too. So you can see a response from this treatment, even in the absence of
Sclerotinia." 
His preference is to vary the chemistry if a second spray is needed, in order to safeguard the fungicides and prevent any
loss of activity.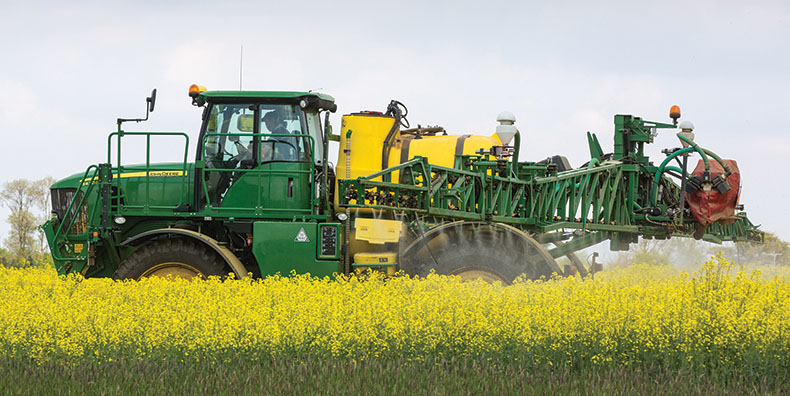 Related articles
All Product and agronomy news
Underestimate Ramularia leaf spot at your peril. While Scottish growers have been battling it for nearly 20 years, it's a disease all barley growers need to be wary of.

Agronomist Richard Cromie demonstrates how to dissect a wheat plant to identify final leaf three – the target for T1 fungicides.