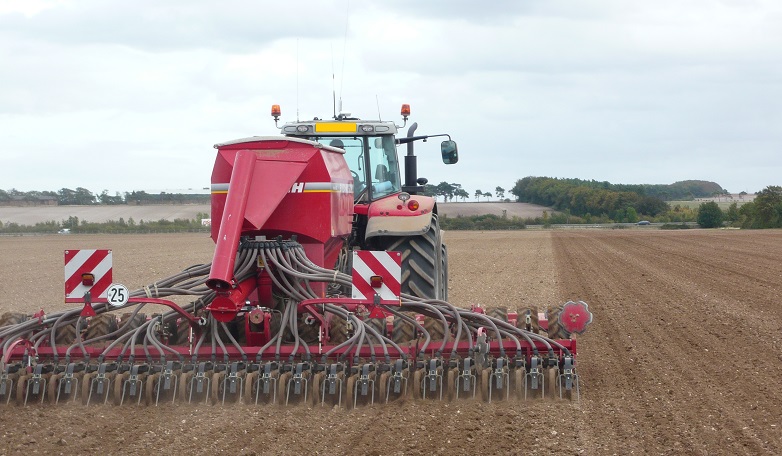 New Bayer seed treatment with improved control of diseases and mycotoxins, introduced by Peter Stacey, Seed Treatment Manager at Bayer CropScience.
New from Bayer CropScience for 2015 is Redigo Pro which contains tebuconazole and prothioconazole. The inclusion of tebuconazole in this new product is designed to further improve the spectrum of control and activity provided by Redigo (prothioconazole) and gives broad spectrum disease control with consistent high levels against the major seed borne diseases.  Formulation changes also result in a good seed appearance and crop safety.
Trials have shown very high levels of control of diseases such as bunt (both seed and soil borne) and a doubling of establishment where Microdochium nivale is present. Redigo Pro also reduced inoculum of Fusarium and subsequent mycotoxin production. It controls blue mould and will greatly reduce the germination of treated ergot particles.
The recommended application rate is 0.5 L/tonne on wheat and other small grain cereals except barley.  The dose is increased to 0.67 L/tonne for barley or where high levels of Microdochium infection are present in the other cereals. However, whilst Redigo Pro can be used on barley, Raxil Star (fluopyram + prothioconazole + tebuconazole), a specialist product developed and tailored for the crop, is usually a more cost-effective option. Both products can be used on spring and winter barley.
Also launched this season is straight Deter (clothianidin) which can be used alone or with Redigo Pro (as an alternative to Redigo Deter (clothianidin + prothioconazole).  It should be remembered that whilst clothianidin can be used on both spring and winter cereals, treated crops must be sown before the 1st January.
Related articles
All Product and agronomy news
Underestimate Ramularia leaf spot at your peril. While Scottish growers have been battling it for nearly 20 years, it's a disease all barley growers need to be wary of.

Agronomist Richard Cromie demonstrates how to dissect a wheat plant to identify final leaf three – the target for T1 fungicides.