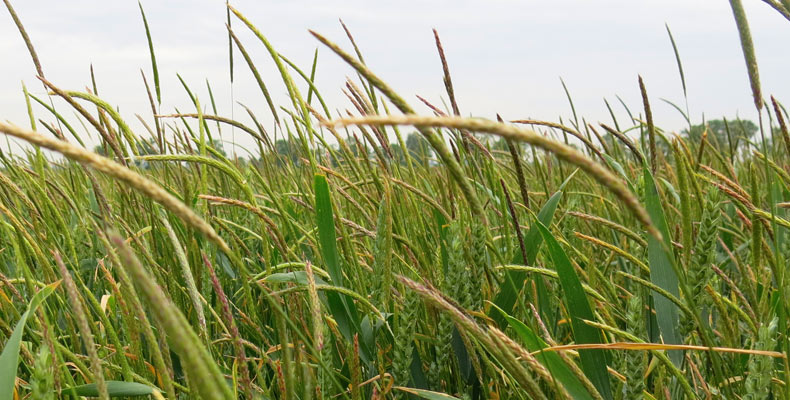 Where possible, spring cropping is one of the most effective ways of reducing black-grass populations in a rotation. Most black-grass will germinate in the autumn or winter period meaning that growers have good opportunities to take out black-grass before the crop is drilled.
But spring cropping may not suit every situation, and there are a number of factors that growers should consider before turning to a spring crop. Here are five to consider when thinking about growing a spring crop to reduce black-grass populations.
1)      What impact will growing a spring crop have on reducing black-grass populations?
Spring sowing is the big one when it comes to getting non-chemical control of black-grass, says independent agronomist Andrew Cotton of Cotton Farm Consultancy.
"In a review conducted at Rothamsted Research, spring cropping gave an average control of black-grass of 88%," he says.
Within that figure, there was a range of 78% to 96% control. "There are more challenges with spring crops on heavy soils and only a very limited range of herbicides that can be used, so results do vary.
"But getting around 80% black-grass control should be the aim when a spring crop is introduced."
The reason that spring cropping can give such a high control level is that about 80% of black-grass emergence occurs in the autumn, he explains. "As a result, spring crops are less affected and can be used to reduce infestations.
"Through effective use of stale seedbeds, it's possible to spray off successive flushes of black-grass before a spring crop is drilled."
Much of the variability in the results from spring cropping come from how the cultivations are carried out, says agronomist Steve Baldock of Prime Agriculture.
"You get 80% of black-grass emergence in the autumn providing you don't cultivate again," he warns. "Successive cultivations will stimulate more flushes of black-grass, whatever the time of year."
That's why autumn ploughing to leave a rough seedbed and then cultivating in the spring is likely to result in high numbers of black-grass coming through at the same time as the crop, he adds.
"But creating a final seedbed in the autumn, with multiple passes, and then slotting the seed in with very little disturbance can give very good results."
2. How often will a spring crop be required in the rotation to make a difference?
How often you should include a spring crop in the rotation will depend on the extent of the black-grass problem, notes Steve Baldock.
"There's no easy answer here," he says. "It is a complex picture and the main controlling factor is profitability."
In general, he aims to include a spring crop once in every 4-5 years in a typical heavy land rotation, but acknowledges that he has some fields that will go into three years of spring crops.
"What you need to remember is that the spring crop has to reduce the black-grass population to a level where it can be maintained in the other crops."
Andrew Cotton has had on-farm success with using one, two and three successive spring crops, depending on weed population levels and resistance status.
A continuous winter wheat rotation on a heavy clay soil farm had to be cleaned up with three spring crops – spring barley, spring oats and spring red wheat – before winter cropping could be re-introduced, he recalls. "It can be done, providing any ploughing is carried out in the autumn."
On another heavy land farm with a very high weed seed bank, the use of spring beans in the first year followed by spring wheat the following year proved successful.
"It's better to have a crop growing than to leave the land fallow," he advises. "The soil slumps without one and the residual chemistry doesn't work in the next crop."
3. Do you need to spring crop more than one year in a row?
Growing a spring crop for more than one year in a row is useful in extreme conditions, both Mr Cotton and Mr Baldock agree.
"It can be the best solution following very high seed returns," says Mr Baldock. "I have several fields this year that will go into three years of spring crops."
While this may reduce margins, the decision was made with the control of black-grass as the overriding consideration, he explains.
"It is replacing the use of ploughing to bury black-grass seed for 4-5 years, which gave a manageable result for a while.
"But high levels of resistance, together with the seed returns that have been created, mean that we have to deal with them in the soil surface layer now. Ploughing away very high levels of seed is no longer an option."
The variability of results with ploughing show that many growers are not good enough at ploughing to bury the seeds satisfactorily, he believes.
"Even if they were, and they lost 80% of seed per year, any less than once every 4-5 years would result in ploughing up too much seed to get good control."
4. What impact will growing a spring crop have on overall farm margins?
There's no need for farm margins to fall dramatically if spring cropping is introduced, believes Mr Cotton.
"The introduction of Canadian red wheat proved that point to many growers, as it was launched with a good premium level," he recalls. "With its short growing season, it could be sown in April, and still produce respectable yields."
Spring wheat varieties, such as Mulika, can also yield up to 10t/ha from a late spring sowing date. "It's another one which attracts a milling premium, so it holds its own in the rotation."
Spring oats and barley have also produced a high output and had premium-earning potential on many occasions, he reports. "They both fit into a viable, long term farming system and are an effective way of getting on top of a runaway problem."
Generally, spring crops have lower variable costs, he continues. "That often helps to cancel out any yield deficit. Remember too that the cost of trying to control black-grass in a winter crop is increasing rapidly, making the spring crop figures look more attractive."
As crop prices vary year on year, it is difficult to predict the impact of spring crops on overall farm margins, notes Steve Baldock.
"Peas, beans and spring barley have been among the most profitable crops over the last few seasons, with high prices and some very good yields. But things are changing at the moment."
The lower yields and lower growing costs can balance each other out to return similar levels of profitability, he says. "That's especially so when you compare them to oilseed rape, which is expensive to grow and has been very variable on farm."
But spring crops are more risky and require a higher level of management, he says.
5. What spring crop is best suited to your farm?
The spring crop chosen must be competitive to be effective against black-grass, advises Mr Cotton.
"For this reason, forget about linseed," he says. "It doesn't form a canopy, so the black-grass can grow among it. But spring barley, wheat, oats, oilseed rape and beans all have a place."
Whichever crop is grown, seedbeds must be overwintered, he stresses. "Do any ploughing in the autumn and then use a minimal disturbance drill in the spring."
Crops with a short growing season, such as Canadian red wheat, are ideal. "They can be sown at the end of April. Sowing in February is less helpful where black-grass is a concern."
The biggest risk to spring crops is poor establishment due to drought in the spring, notes Mr Baldock.
"All but the heaviest land can produce spring crops. As long as you don't lose too much moisture at drilling, through excessive cultivations, heavy land crops will chase moisture down the soil profile.
"They are more sensitive to soil compaction, so drilling should only be done when the soils are dry enough. All spring crops want to go in and grow, so don't be tempted to put them into cold wet soils."
Like Mr Cotton, his preference is for crops that can drilled late and harvested early, with their additional opportunity for a stale seedbed in the spring. "Spring barley and peas are the obvious choices here."
Sugar beet on heavy land needs to be drilled at the first opportunity in the spring, he cautions. "It can also be difficult to get good seedbeds in some autumns to get residual chemistry to work well in the following wheat crop.
"In addition, the uncompetitive nature of beet early in the season means that it can be very bad for black-grass control."
Maize is another option, he remarks. "It is good for late drilling in the spring, but its later harvest can give problems in the autumn."
As a result, he recommends looking at maize for very difficult situations, including a run of 4-5 years, providing it would not cause a cross compliance problem in a wet autumn.
More from Crop