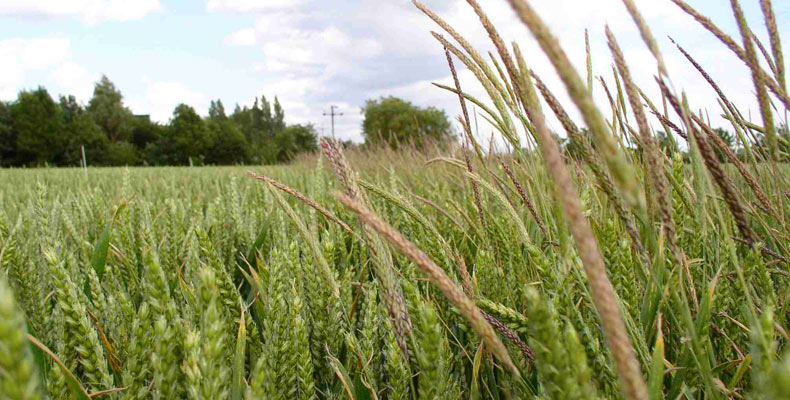 The major active ingredient in Liberator, flufenacet, in association with diflufenican, is widely acknowledged to be the most robust residual chemistry against a range of grass weeds, including black-grass.
But while Liberator offers up to 60-80% black-grass control alone, this can typically be boosted by a further 5-10% with the addition of an appropriate tank mix partner. Using a range of active ingredients also forms the basis of any effective anti-resistance strategy.
There is a wide range of products to choose from, but the following tank mixes have all performed well in trials and are supported by Bayer CropScience.
The addition of extra DFF® to give a maximum dose of 120g/ha can now be used with the most popular tank–mix partners, as can an insecticide if required. The following combinations give the maximum dose rates recommended for your crop:
1. Liberator 0.6L/ha + prosulfocarb 2L/ha + diflufenican 60g, winter wheat only, pre-emergence only
2. Liberator 0.6L/ha + flupyrsulfuron 20g /ha + diflufenican 60g, winter wheat only, pre-emergence only
3. Liberator 0.6L/ha + pendimethalin (1,000g a.s./ha) + diflufenican 60g
4. Liberator 0.6L/ha + pendimethalin/picolinafen (1,000 g a.s./ha pendimethalin) + diflufenican 60g
How to decide what to use and when at the crucial pre-emergence timing:
Use Liberator as the backbone of pre-emergence programmes
There are a number of reasons why Liberator should form the cornerstone to any pre-emergence herbicide programme:
It is based on the two active ingredients that are little affected by resistance – flufenacet and diflufenican
It gives robust performance against a broad spectrum of grass weeds
It has consistently delivered excellent black-grass control, typically up to 60-80%, with no significant drop in field performance recorded over more than 10 years
There is flexibility for a range of tank mixes to bolster black-grass control, broaden the spectrum of weed control and provide a more robust anti-resistance strategy
                  - From this season Bayer CropScience supports some three-way mixes of Liberator and partner products, but be careful to avoid any possible crop tolerance issues with more complex mixes
Growers have the option for a second application of 0.3 L/ha Liberator after six weeks from the first if required.
What are the most appropriate tank mix options?
Liberator + diflufenican
This combination has proved popular for many years, delivering reliable and relatively cost-effective control of grass weeds plus additional efficacy against broad leaved weeds.
Applying an extra 60 g/ha of diflufenican delivers a total diflufenican dose of 120 g/ha, which boosts black-grass control by around 5% and also delivers extra efficacy against broad leaved weeds.
Diflufenican has also proved effective against bromes, so maximising the dose pre-emergence could be particularly useful in situations where there are high populations of autumn-germinating brome.
Liberator + Lexus SX (flupyrsulfuron-methyl)
An increasingly popular mix specifically for pre-emergence black-grass control in wheat, the addition of Lexus can give an extra 5-10% efficacy in the right conditions.
It is a relatively cost-effective mix that also offers some additional activity against key broadleaved weeds, such as crane's-bill.
Liberator + pendimethalin
Bayer CropScience supports the use of Liberator with up to 1200 g/ha of pendimethalin.
Such an approach is not only effective against black-grass, but also improves control of wild oats and rye-grass, although growers must ensure seedbed conditions are suitable to minimise any potential crop tolerance concerns.
This mix may not improve black-grass control where resistance to pendimethalin has been identified in the population.
Liberator + Defy (prosulfocarb)
The addition of Defy to Liberator can improve black-grass control in winter wheat, but may be particularly beneficial where rye-grass is present.
Bayer CropScience recommends mixing 2 L/ha of Defy with 0.6 L/ha of Liberator, but this must be applied at the true pre-emergence stage of the crop to avoid any possible crop tolerance issues.
Defy can deliver up to 10-15% extra black-grass control on good, moist seedbeds. However the beneficial effects from this mix can be variable, particularly when applied to dry, cloddy seedbeds.
Liberator + Bacara (diflufenican and flurtamone)
The active ingredients contained in Bacara give a useful uplift to black-grass and rye-grass control of typically around 5%.
Flurtamone also offers slightly more foliar activity than flufenacet and diflufenican, which may be of some advantage if any grass weeds have just started to emerge. But this activity is no replacement for a true pre-emergence timing within 48 hours of drilling.
Should growers be worried about flufenacet resistance?
Flufenacet is an established active ingredient that has been in use for over a decade, with no significant drop in field performance over that time.
This is not surprising as history shows that resistance development in residual herbicides tends to be much slower than in other chemistry. However, as for other herbicides, flufenacet is not immune to future resistance development.
Nevertheless, it is important that growers use the product sensibly to minimise the risk of creating potential future resistance issues. In particular, that means:
Ensure flufenacet-containing products are applied as part of an integrated weed control strategy that incorporates both chemical and cultural measures
Use flufenacet with a range of other active ingredients to broaden the modes of action and reduce selection pressure on any one active
Use robust rates that deliver optimum efficacy
Liberator is also compatible with a range of other products. For latest tank-mix information call Bayer Assist on 0845 6092266 / 01223 226644 for the recommended list or our document area onsite.
Atlantis, Liberator, biopower, DFF and Bacara are registered trademarks of Bayer. Lexus is a registered trademark of DuPont and Defy is a registered trademark of Syngenta.
More from Chemistry Pre-emergence