Seed treatment stewardship
Seed treatments are considered by many as one of the most environmentally friendly methods of crop protection targeting the treatment and reducing the need to spray. However, the surface of treated seed still contains agrochemicals, and there's a potential danger to wildlife if these chemicals get into the environment in an uncontrolled way.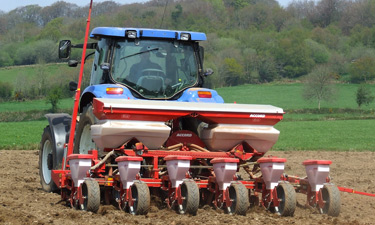 Background
Other than your normal care when using crop protection treatments two specific areas to watch are:
Dust
Uncovered drilled seeds and spillages
Some types of drills, especially precision vacuum types, emit air that can contain dust. For insecticide treatments seed labels have been updated and now include a requirement for these drills to vent onto or into the soil, or be modified to do so.
In the last two years there have been a few important but isolated incidents in Continental Europe with treated seed affecting wildlife - caused by incorrect practice. As a result, European and UK registration authorities have put seed treatments under greater scrutiny and now demand increased levels of safe use stewardship from suppliers and users.
Guidelines
Always ensure adequate seed drilling equipment is used to maximise good incorporation in the soil, minimise spillages and dust emission. 
By following a few guidelines, you can help seed treatments work their best for you while protecting the wider environment:
Maintain your drills correctly; check and prepare them before drilling
If necessary, modify your drill*
Avoid the release of treated seed dust
Cultivate to create a quality seed bed over the whole field
Clean up any spillage immediately - better still avoid them completely
Check the drilled area for exposed seed after drilling and cover any on the surface.
*Remember, if you have an older vacuum pressure precision maize drill, you can usually obtain a retrofit kit from the manufacturer. This will avoid venting dust upwards into the air and ensure you comply with the new seed labels. Bayer Assist can offer initial advice and manufacturer contact details.
Other simple stewardship actions 
Fill the drill on an area where it's easy to detect and clear up any spillage - avoid grassed areas
Dispose of any dust remaining in the bag with the bag itself - don't tip it into the drill
With cereal drills, sow the headlands last; this will help incorporate any seed left by the drill when lifting in or out at row ends
Pay special attention to areas where the seedbed is poorer and in corners of fields
If necessary, carry out further harrowing or rolling and increase tension on coulters to ensure good seed coverage
By focusing on safe use and stewardship, historical problems such as bunt, leaf stripe, aphids and the viruses they transmit will not be allowed to come to the fore again. Farmers get less seed waste and better crop establishment, which result in higher yields and quality. Drill contractors have happier customers, and crop protection advisers can satisfy their roles as champions in crop protection and custodians of the environment.

Seed treatment stewardship advice can also be found on the RED Tractor Assurance website