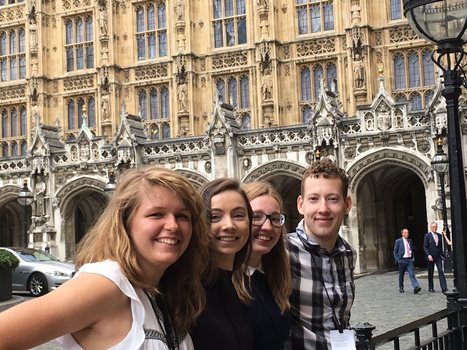 Earlier on this month, we had the pleasure of hosting our four UK and Ireland Youth Agricultural Summit delegates for a 'meet the team' day out in London. Our delegates come from a range of non-agricultural backgrounds, yet all have in common a passion for the role that agriculture plays in feeding a hungry planet , which is this year's theme for the Summit  based on the UN's Sustainable Development Goals. We are hugely grateful to Mary Cavanagh, Senior Content Developer at the Science Museum, and MP Julian Sturdy and his team, for agreeing to meet up with us in Westminster. Some great conversations were had! We asked our delegates to share some of their thoughts on their experience of the day and on the Summit ahead.
Luca Steel, Student of Biology, University of Bath
I enjoyed meeting the other U.K. and Ireland delegates; each of us brought a different perspective to conversations on sustainable agriculture and I learnt a lot about their areas of interest! It was especially thought-provoking to find overlaps between these areas; for example, Luke is looking for ways to breed insects for food, while I recently became interested in using similar species on crops as pest control. Meeting with professionals in the field opened my eyes to just how broad the task of eradicating hunger is. I saw why the problem must be broken down and shared between countless areas of expertise, before being recombined to create a global solution. Having recently attended a Crop Protection Summer School, I was particularly interested to hear opinions on biological control methods and their sustainability. After the summit, I hope to engage in public outreach to help achieve any goals set, and so finding out more about selecting content for a museum exhibition was really useful. By the end of the day, I had a brain-full of ideas for further discussion during the summit, and felt lucky to have met people with the enthusiasm and expertise necessary to help implement them!
Luke Blomfeld, Accountant and Entrepreneur 
10/07/17 was an unbelievably inspiring outing. On that day I was able to experience being the person that I have the potential to one day become. The amount of knowledge and ideas that I gained from speaking to everyone was monumental. If the summit is anything like the meet up then I can't wait!
I learnt from Sophie and Luca the extent to which Social media can be used to recruit people to a cause. This could prove to be especially useful for myself when putting together a team for setting up a business in Entomophagy. It was extremely thought provoking hearing what Julian Sturdy had to say about the impact of Brexit on Agriculture in the UK. It made me think that the potential removal of subsidies on UK farm produce could mean that entomophagy could be possibly seen as a very attractive cheaper alternative.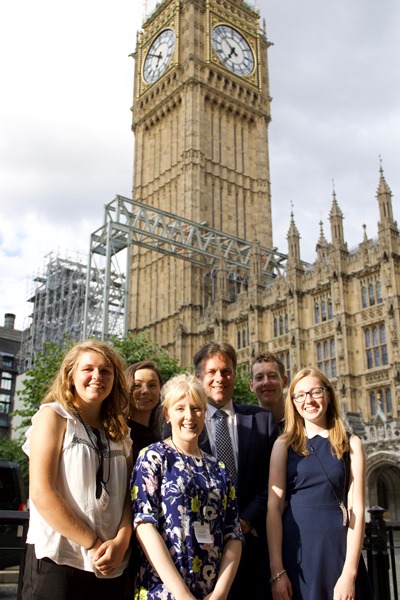 Emily Davis, Student in Agriculture, University of Nottingham
Thanks to our day out in London ahead of the summit, I have come away with some new perspectives to ponder: I learnt a lot about the politics surrounding agriculture and how much of a block it can be to the problem of feeding the world!
Our morning at the Science Museum showed me the importance of communicating science and how it can be done effectively. The work that the Science Museum does in educating the public is exactly what we need, because it could encourage consumers to think about how they live, what they eat, how much they waste, and encourage them to live more sustainably. It is exciting to think as well that such exhibitions could inspire the next generation of scientists (and agriculturalists!).
Getting to know my fellow delegates and mentor ahead of the summit in October was fantastic. I will turn up in Brussels and recognise at least four friendly faces! The day in London has given me some things to think about for the summit: it would be interesting to hear from people where GM crops are commonly grown, for example the USA, and to see how else politics may be inhibiting solving world hunger. Global food security is a phrase which has cropped up a lot during my agriculture degree, and there are so many angles to it to explore, so I am looking forward to hearing how people from elsewhere in the world think we can tackle it. In terms of what I will bring to the summit: a lot of curiosity and enthusiasm!
Sophie Healy-Thow, Global Youth Leader for Mobilising Generation Zero Hunger for the UN General Assembly
My day in London with the incredible team from the UK and Ireland (I'm the Irish one!) was amazing. It was such an inspirational and motivational day. I'm still stuck for words to describe it. Sometimes it's difficult to meet people as excited about the future of agriculture as I am so it was mind-blowing to make three new friends (our team) who share my excitement. 
Alice really made the day special with our trip to the Science Museum and then we went on to have afternoon tea in Westminster with MP Julian Sturdy. What I really learnt from the day in London is that if we are to accomplish the Global Goal of Zero Hunger we need to cross sectors, be creative and innovative for the future and keep asking questions. You never know when you'll stumble upon a question that may not have an answer. I went to London specially to meet the team and I'd do it again in a heartbeat. Meeting the team has really set the bar high for my time in Brussels but I'm sure the Youth Agricultural Summit will not disappoint. I'm ready to connect, share and be inspired by other young people in Brussels.
Related articles
All Farming Matters blog
The UK's Agricultural sector has a huge challenge with Lantra telling me the sector needs 600,000 new entrants with land skills by 2020. Agritech is part of this and is one of the key sectors in the Government's industrial strategy, but despite all the great initiatives going on, are Generation Z aware of this? And in the numbers required?

Thomas shares his experience of engaging with farmers as part of the Young Innovators Forum visit to our Research Farm near Cambridge earlier on in May. The Young Innovators Forum may be young, but its stimulating discussion between two key players in agriculture between innovation in research and the field is already demonstrating a promising future of the UK industry.