Two Brothers from Camborne, Cornwall have won a £12,000 Polaris Ranger, after their names were drawn from those users of the new wheat fungicide from Bayer, Ascra Xpro (prothioconazole + bixafen + fluopyram), who entered a prize draw this spring.
And Robert and Tim Bowden of Gwealavellan Farm, Camborne, Cornwall haven't wasted anytime in putting the machine to good use.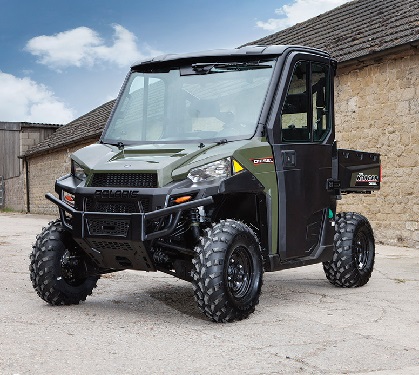 With 150 acres of cereals, 80 cattle and a few sheep and pigs it has been pressed into immediate service after taking delivery from dealer B&B Agri. "It's been great for checking the cattle. It really is very nippy!" quips Robert. They also expect it to be ideal for smaller tasks such as slug pelleting.
The competition win couldn't have come at a better time for the Bowdens. Their Kubota RTV900 has served them well but the hydrostatic transmission is starting to wear, so they had been considering a change anyway. Thanks to ordering Ascra they now have a £12,000 Ranger for free.
It wasn't the chance of winning that took them down the Ascra route. The farm is less than a mile from the Atlantic coast and sea frets and storms are a constant occurrence.
They feel it is the key difference between farming in Cornwall to East Anglia. The view over St Ives bay is stunning but the weather is unpredictable. "We never know what we will get here. One minute the sun is shining the next the clouds have rolled in," says Robert wryly.
Certainly it can be wet. Despite drier conditions this spring Met Office statistics reveal that the Camborne, Cornwall weather station recorded 435 mm of rain for the first six months of 2017 – for the Cambridge station East Anglia it was 253 mm.  
Yield is the driver of farm strategy. With few milling opportunities and good but not totally ideal soils they are 100% feed wheat, and 100% variety Graham. Its Septoria rating and yield potential makes it an obvious choice and being quite 'strawy' it can earn another £60/tonne. They switched from Reflection after it bombed last season – not due to yellow rust but wireworm. "You'd think with grass in the rotation it would benefit us. But it had lived on. Graham got Redigo Deter (prothioconazole + clothianidin) to bolster protection," says Tim.
The variety is backed up with a robust fungicide programme. This season it started with chlorothalonil (CTL) at T0, followed by 1.0 l/ha Aviator235Xpro (prothioconazole + bixafen) + CTL at T1, Ascra + CTL at T2 and a final dose of prothioconazole for foliar top up at the T3. "It really is Septoria and Septoria here. We do get some mildew and eyespot from time to time, and brown rust if fine weather is around. But all are controlled by a good Septoria programme. We opted for Ascra at T2 as data suggests it is the best Septoria option – it is a disease you can't really take any chance with here," he adds.
On a quick spin around the farm the Ranger does appear suited to the task. A 1000 cc engine with four drive options delivers a top speed of over 40 mph making it the fastest ATV available. It also has a generous payload and ample ground clearance.
A novelty is the four drive options including one wheel drive. Robert expects that with less scrubbing it will help reduce tyre wear around the twists and turns of the Camborne area. "We have three farms so there's some travel involved. Here on the cliffs it's pretty winding so the one wheel drive option is very useful."