Grow your Own: Why Bayer is giving away free seeds at Open Farm Sunday
Posted in: Farming Matters blog
As someone who works in the farming industry, I've always loved the thought of growing things. But for large parts of my life I haven't had a garden, so it has mostly remained just that – a thought rather than a reality.
But recently I've taken on an allotment, together with a colleague at Bayer who lives around the corner, and I'm really enjoying the trials and tribulations of trying to grow my own veg. We've had successes – onions, potatoes, carrots (eventually), parsnips and the ubiquitous courgette (not sure I ever really want to see one again after last year's glut!). And we've had failures – peas, cabbages and celeriac were more misses than hits.
And just like in larger scale farming, the key reasons behind the failures were pests or diseases. From slugs, caterpillars to potato blight and rots, our crops came under attack from all quarters. Without some diligent hoeing (and a bit of glyphosate) weeds would also have threatened our productivity.
The threat from weeds, pests and diseases is just one of the messages we discuss with visitors to farms where we are represented during Open Farm Sunday. Without crop protection up to a half of the world's food supply could be lost each year – it's a figure many have no idea is so big and represents an opportunity to discuss how our food is produced and the importance of crop protection products.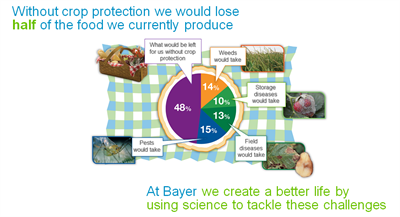 As well as discussing how we produce our food, we also want to encourage more people and especially children to have a go at growing their own – it's really important to rebuild the connection between young people and where their food comes from especially in urban areas – which is why we have teamed up with our colleagues at Bayer Vegetable Seeds (Nunhems) to give away packets of lettuce seeds this year.
They're easy to grow both inside and outside, and can be grown all summer long, so hopefully should provide opportunities for people to not just enjoy the thought of growing something, but also actually do it!
Bayer will be at the following farms on Sunday 11th June
Sir Richard Sutton Estates, Market Rasen
Holkham Hall, Wells-next-the-Sea NR23 1AB
College Farm Duxford, Cambridgeshire, CB22 4QF
J E Scutt & Son - Badlesmere Court, Faversham, Kent, ME13 0NL
Park Farm, Stanton, Bury St Edmunds, Suffolk, IP31 2DL
And on the 18th, we will be helping out at Welbeck Estate:
Farm Office, Welbeck, Worksop, Nottinghamshire, S80 3LR, United Kingdom
Related articles
All Farming Matters blog
The UK's Agricultural sector has a huge challenge with Lantra telling me the sector needs 600,000 new entrants with land skills by 2020. Agritech is part of this and is one of the key sectors in the Government's industrial strategy, but despite all the great initiatives going on, are Generation Z aware of this? And in the numbers required?

In July we hosted a day out in London for our four Youth Agricultural Summit 2017 delegates for the UK and Ireland. As the next generation, we invited them to share their thoughts on their experience of agriculture so far and what they hope to gain from the Summit which is taking place in Brussels later on this year.