Rust makes an appearance in UK beet crops every year, and there is no reason to suggest this season will be any different. Well-timed fungicides will be crucial to supporting performance, writes Edward Hagues, Bayer root crop product manager.
June is usually the month in which the first cases of rust occur, so growers should start to monitor crops for signs of the disease.
Trials are quite clear in that Escolta (cyproconazole + trifloxystrobin) at the first and second application gives the best return through improved yield.
Standard advice is to apply the initial fungicide in July prior to disease onset. If there is disease nearby there is likely to be pressure in your crop and an application is most effective before disease becomes established. Second applications should follow about four weeks later.
Crops are variable this year, with the most advanced comfortably meeting across the rows, while crops that established later are a number of weeks behind.  However, throughout the crop the incentive to push harder for yields has returned. A larger sugar beet crop area raises the prospect of a longer campaign and while higher world prices are likely to mean a small bonus to the base price of £22/t.
An improved price is a positive step; growers can go for maximum yield. Most crops are now well-placed and with favourable weather and effective disease control, they will do better than many hoped at the start of the season.
Bayer trials in recent seasons found that a second application of Escolta at 0.35L/ha added on average, 4.8T/ha in yield over that of crops receiving only a single application.
Across all lifting dates the average yield response in 2014 for crops receiving two full applications of Escolta was 17.6t/ha, roughly 18% over untreated. For those lifted in January and February the response was 22.4t/ha, equivalent to 23% over untreated. Based on seven years of trials data and with beet at £22/t, two applications of Escolta could be expected to contribute an average of £387/ha to enterprise output for late lifted crops.
Chart: One and two-spray performance of Escolta versus untreated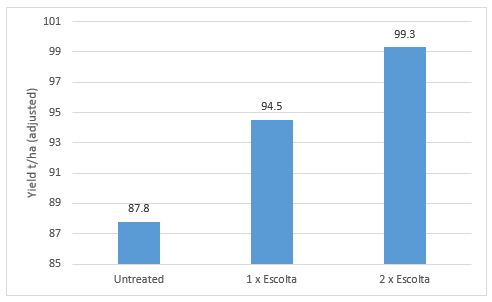 Source: Bayer CropScience. Consolidated data from nine trials comprising 13 data points from 2009-15. Jan and Feb lifts.
Related articles
All Product and agronomy news
Susceptible oilseed rape varieties are nearly at Phoma threshold in Ella Crawford's area, while grassweed and BYDV control in cereals is also topical this month.

Aphids with the potential to carry virus are a concern in both oilseed rape and cereals for Gareth Bubb. He also offers advice on what to do if pre-emergence herbicide sprays are missed in wheat