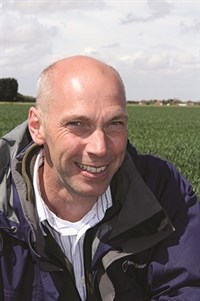 Don't assume that Fusarium Ear Blight (FEB) pressure will be reduced this season. That is the warning from one of Britain's leading Fusarium experts, Fera's Dr Phil Jennings.
The lack of stem-based symptoms means that growers might be downplaying the potential threat but he points to last season."Last season we saw little in the way of stem-based browning in early spring yet over 80% of all final samples we received had Fusarium symptoms."
Dry spring weather assists inoculum build up on crop debris for the key threats of Fusarium culmorum, Fusarium graminearum and Microdochium, but cooler April temperatures have inhibited this so far. "It is almost a mirror of last season. Dry spring weather but cooler temperatures checking inoculum build up. However, it is the weather at flowering that ultimately determines the severity of FEB infection, and last season many areas were hit by humid, showery conditions as crops started to flower. Our samples last season revealed Microdochium as the most common species, with 69% of samples having the disease. But we saw Fusarium poae and Fusarium graminearum too."
He warns that the risk can almost be on a field to field basis. "We see such variability in weather, in particular rainfall during flowering that samples can vary considerably across a region. Generally, Fusarium poae was isolated where it was drier and Microdochium in the wetter areas. But we also recorded Fusarium graminearum from many eastern areas – 35% of samples from the East Midlands having the disease."
For him he would advise against any change to T3 strategies. He says cutting rates of prothioconazole or substituting it with another azole is risky. "You can never predict the weather at flowering and since 2007 the disease has never really gone away," he says.
And that includes very forward crops. In some cases T2 sprays were applied by the end of April, and could miss the main inoculum period, or even more humid weather as temperatures increase.
"We usually see a peak in Fusarium graminearum perithecia around GS58.
Showery conditions aid the development of these fruiting bodies but if crops reach GS58 earlier than usual they might miss this peak if it stays dry. However, I would still stick with a ¾ dose of prothioconazole to guard against favourable weather for Fusarium at flowering," he warns.
Bayer's Tim Nicholson agrees and warns that forward crops could be at higher foliar pressure too. "We've seen huge variability in crop development this season, and in some cases T1 and T2 spray going on well forward of typical calendar dates. We saw last year Septoria develop very late in the season with wet weather during June. To give the persistence needed for ear and foliar protection I would stick with 0.55 L/ha rates of Proline275," he says.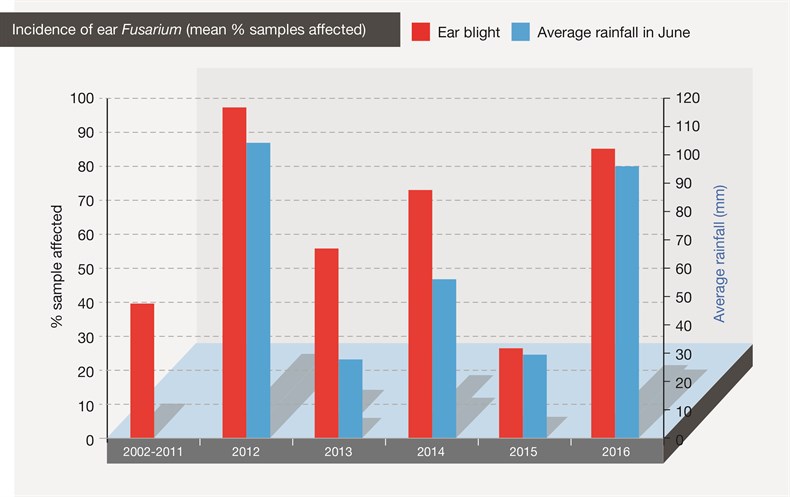 Related articles
All Product and agronomy news
Turnip Yellows Virus could be a concern in OSR in Scotland, says Grant Reid, who also preaches the importance of being careful with treated seed

Sam Harvey finds early OSR drilling could mean higher disease pressure, and urges to growers to hold their wheat drilling nerves