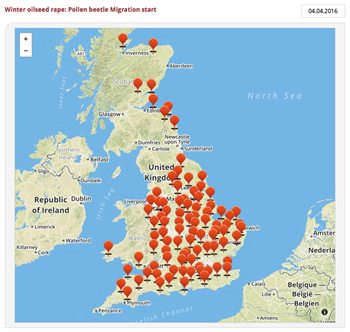 With forward crops well in to flowering the focus shifts to backward crops.
Forward crops have produced a sea of yellow over the last week and are now well past the damage susceptible phase. It is now just backward crops going through the green to yellow bud phase that are of concern.
Over the last week migration has progressed at a more typical rate over much of England with the Bayer Pollen Beetle Predictor 'percent migration' map showing a range of 30 to 45% today. The home counties are now leading the field with Sussex and Kent at 50% and three weather stations just North of London – Amersham, Harlow and Welwyn Garden City – have passed the 50% mark. Migration has been slowest in Scotland and the map is showing figures around 20%.
At Rothamsted Research, which is close to the Welwyn Garden City weather station, Dr Sam Cook reports that they have both forward and backward crops and that pollen beetle counts in their backward crops have not yet reached threshold.
"We are monitoring six such crops closely and on Monday 3rd April beetle counts ranged from four to 17 per plant. Plant populations are in the 30 to 50 per square metre range so the treatment threshold is 18 per plant. They're currently in the green to yellow bud phase so whether they'll need to be treated or not will depend on migration this week. It looks like three out of the six will not reach threshold and three may."
BBC Weather's outlook for the week ahead is: "Very little rain to speak of, fine and settled for most parts with daytime highs typically of 12°C to 14°C and some chilly nights." The Bayer Pollen Beetle Predictor 'new migration' map is mostly showing moderate migration conditions.
Dr Cook's interpretation is that the next week should continue to bring moderate levels of migration but maybe not enough to hit treatment thresholds before backward crops begin flowering. However she advises: "It all depends on local conditions. Keep a close eye on the 'new migration' map and monitor as soon as the tool indicates the need to do so i.e. when a weather station has been yellow for three consecutive days or the day it turns red"
Related articles
All Product and agronomy news
1. Target drilling of winter wheat after the main flush of black-grass, which is typically from early September to the middle of October, depending on soil moisture.