In March, a few of us from Bayer joined the Young Innovators Forum conference for early career stage researchers and farmers at Morley Agribusiness centre. We asked Becky and Emily, the conference organisers who work for Agri-Tech East and NIAB TAG respectively, to share their thoughts on the event.
Becky Dodds, Agri-Tech East
Following on from the Young Innovator's Forum Agri-Tech East runs, we wanted to expand to a full day conference. Our overall aim was to showcase what goes on in the agriculture industry, from blue sky research right through to application on farm, and everything in between, and how it can all work together to improve efficiency and yields.
There's a sense in the industry at large of a knowledge gap; as we discussed during the day, there's a real skill involved for scientists to explain their research and its importance to farmers, as well as farmers being able to communicate their needs effectively. By engaging industry players early on in their career, they'll find it much easier to overcome this knowledge gap and improve communication later in life – hopefully improving research translation.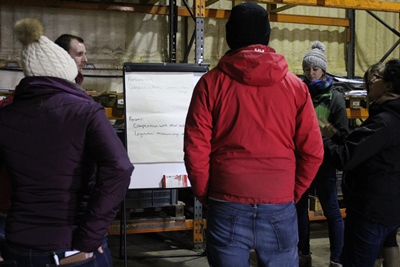 I know by now I shouldn't be, but I am still so amazed at some of the insights that come from our attendees. When faced with resolving the issue of rising wage costs, for me the obvious solution is automation. However, my group actually went towards how to increase profit margins for produce, and the education needed not only for consumers, but also for young entrants around first job expectations and routes which was something I'd never considered, but certainly made sustainable sense.
I really enjoyed hearing from Alistair Wright, who's doing a PhD in nematode research. What I liked was that he was a farmer by background – he had never intended to go down this route but saw how it could benefit not only his farm at home, but also the farming community at large.
That's exactly what this is all about – helping research directly benefit farmers and farmers being able to inform the research they need doing.
Emily Borton, NIAB TAG
For me, as an agronomist, one of the highlights of the day was seeing our groups getting stuck in with the structural assessment out in the field run by Milly Bowden of ADAS and Nathan Morris of NIAB TAG. Everyone was really engaged with the activity and even those with experience of soil sampling and testing said they'd learnt something from the exercise.
I really enjoyed the talks from our keynote speakers, scientist Bill Clark and farmer Emily Norton, who were dynamic and kicked off the day perfectly and with enthusiasm. Our PhD lightning presentations were snappy and fascinating and gave a great insight into some of the incredible technical research going on in our industry.
Running the event at Morley in conjunction with The Morley Agricultural Foundation was a great opportunity and Becky and I are hugely grateful to them for their support and help running the day plus all the staff at the centre whose day we made a little chaotic! Thankfully everyone believed in the idea of bringing young scientists and agriculturalists together and worked hard to make it a successful day.
Overall I came away from the day with a renewed sense of passion for the industry I am proud to be a part of and I hope that our attendees felt the same.
Related articles
All Farming Matters blog
The UK's Agricultural sector has a huge challenge with Lantra telling me the sector needs 600,000 new entrants with land skills by 2020. Agritech is part of this and is one of the key sectors in the Government's industrial strategy, but despite all the great initiatives going on, are Generation Z aware of this? And in the numbers required?

In July we hosted a day out in London for our four Youth Agricultural Summit 2017 delegates for the UK and Ireland. As the next generation, we invited them to share their thoughts on their experience of agriculture so far and what they hope to gain from the Summit which is taking place in Brussels later on this year.